ps2 games, 20 rare games lot, DISCS ONLY

LOT OF 2 PS2 Games FINDING NEMO + Madagascar (Playstation 2) **COMPLETE** NICE

snes game lot

9 Game Boy Advance Games- Final Fantasy, Kingdom of Hearts, Sword of Mana & More

Lot of 8 Super Nintendo SNES Games + Super Game Boy

LOT of 10 PSP UMD Games/Videos w/ Bust-A-Move Deluxe, Star Wars, SOCOM & More

LOT of 6 Nintendo DS Games w/ Treasure Adventures, Age of Empires, Advance Wars

POKEMON SNAP AND HEY YOU PIKACHU N64 GAMES! GAMES ONLY! CLEAN! BOTH WORK GREAT!

WHOLESALE LOT OF 3 WRESTLING GAMES SUPER NINTENDO SNES FREE SHIPPING WWF WWE

9 PS3 GAMES!!!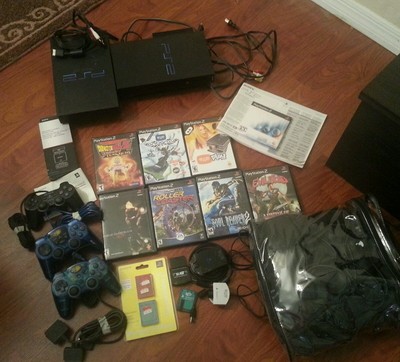 Playstation 2 - 2 consoles, 3 controllers, memory cards, 7 games, more! Lot

Wholesale LOT OF 7 PS2 Playstation 2 All are VG condition

wii games and accessories lot

4 Brand New Sega CD Saturn Playstation Game Shell Cases

Lot of 8-Playstation racing/driver games w cases and instructions

Lot Of 10 Playstation 2 PS2 Games Tested and Working

Very Rare Earthbound SNES game + Super Nintendo Console - lot

ps3 game lot w/controller

LOT of 10 Nintendo 64 N64 Games w/ Banjo-Kazooie, Pefect Dark, Pilotwings & More

Ultimate Mortal Kombat & SuperNova 2 game SNES super nintendo lot

Dreamcast Lot - Console, 6 games, Fishing rod, 2 controllers, ++!

11 - NINTENDO GAMEBOY ADVANCE GAMES - PACMAN / SUPER MARIO / YU-GI-OH / MORE

WHOLESALE LOT OF 3 STALLONE GAMES FOUR SUPER NINTENDO SNES MOVIES BASED GAMES

LOT of 3 Nintendo 64 N64 Games w/ Mario Kart 64, Dr. Mario 64 & Super Mario 64

Huge Nintendo Wii Bundle Console,Games & Much More!!!

Nintendo Game Boy / Advance / Color, Wholesale Lot Game Books 7 books

LOT Of 3 Game Boy Nintendo Games Instruction Color Advance Vegas, Wheel, FunPack

LOT of 7 Nintendo 64 N64 Games w/ Mario Kart, Pokemon Stadium, Pokemon Snap

Crash Bandicoot, Dragonball Z, GTA etc. lot
LOT GameCube games - 38 Titles!!!!!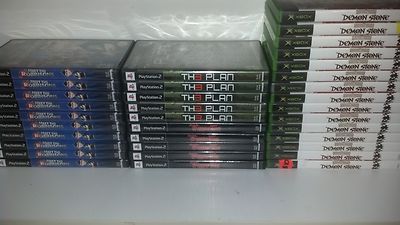 Wholesale Lot, Bundle of 20 Playstation 2 games 15 XBOX games OVERSTOCK 35 games

Miscellaneous Accessories - Lot of 20 used accessories

Microsoft Xbox 360 - Lot of 10 used games

12 Lot NES SNES Nintendo GENESIS AC Power Adapter NEW

Nintendo Wii - Lot of 10 used games

Nintendo DS - Lot of 10 used games, cartridge only
Microsoft Xbox 360 - Lot of 10 Used Games

Pick 1 from a lot of 9 original Xbox Games.

Sony Playstation- Lot of 25 As-Is Accessories

Microsoft Xbox - Lot of 25 *USED* Xbox Games