Astronaut Unknown Scale 2 1/2 Inch Tall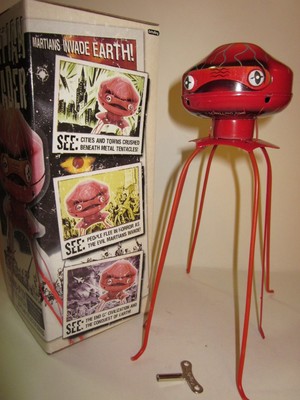 WALKING Wind-Up Mars Space Alien MARTIAN INVADER Toy robot new Retro 1950's tin

MASUDAYA JAPAN 2' TALL TALKING ROBBY THE ROBOT FORBIDDEN PLANET MIB UNUSED

ROBBY THE ROBOT MEDICOM X-PLUS ACTION FIGURE - SALE!

GODZILLA It's Gojira, You Moron VFX Film Crew Original T-Shirt 1997

Vintage 1950's NASA MERCURY Friendship 7 Space Capsule Tin Toy CRAGSTAN Japanese

Toho Bandai Hedorah Smog Monster Godzilla 6.5" Vinyl Action Figure in Rough Box

Beta robot by Scientific Toys LTD. China Sings a rap tune, walks, great shape.

original BOX robot HORIKAWA Rotate O Matic Super Astronaut tin toys Japan
Gamera The Brave 6" Bandai Action Figure! New with tags!

VOLTRON 7" - 1984 LJN - Lion Force Yellow Green Blue Black (Red missing) Plastic

VINTAGE GORILLA KING KONG YETI BATTERY OPERATED MONSTER..WITH BOX...JAPAN!!

Premium Phantom of the Opera Finger Puppet Glow Universal Studios 1975 Monster

CUBIX, ROBOTS FOR EVERYONE NEW IN THE BOX

King Ghidorah - New Bandai Japan Import Godzilla Action Figure!

Warewolf Frankenstien Mummy Creature Phantom Hunthback Set

Maketoys Green Giant Type - 61 Gift Set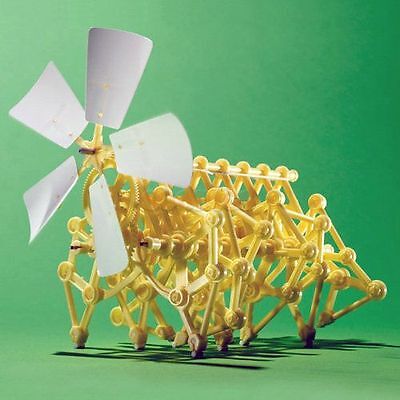 Wind Powered DIY Walking Walker Mini Strandbeest Assembly Model Kits Robot Toy

BUCK ROGERS IN THE 25TH CENTURY, BRITAINS REPRODUCTION SET

1950s MECHANICAL DEEP SEA ROBOT by Naito Shoten, Japan RARE ORIGINAL

Made In Germany, Rare Vintage Wilesco D-5 Steam Engine

Made In USA, Rare Vintage Louis Marx & Co Crazy Express
Space Godzilla - New 6" Bandai Japan Action Figure!

LONDON AFTER MIDNIGHT SIDESHOW 12 INCH LON CHANEY VAMPIRE FIGURE MIB

VINTAGE MEGO KING KONG STUFFED 21 INCH 1976 MOVIE TOY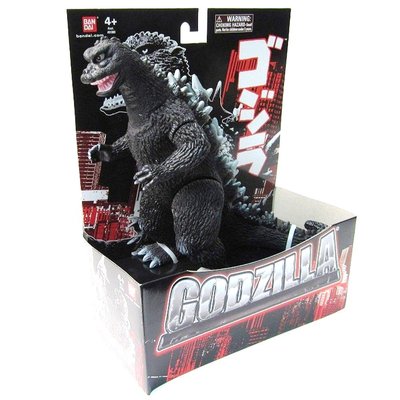 Godzilla 1968 Bandai 6.5" Godzilla Action Figure - New in box!

King Kong Maniacs Figure McFarlane Toys GREAT SHAPE

Remote Disc Shooting Robot Remote Controlled Robot Kids Toy Children's Toy NEW

Robby the Robot Windup Tin Toy Japan Billiken

METAL HOUSE SPACE DOOM TELEVISION ROBOT MADE IN JAPAN brand new in art box

TIN SUPER ASTRONAUT ROTATE-O-MATIC ROBOT JAPAN WITH BOX WORKS GREAT NICE!!!

Shogun Warriors Mazinga Missile Launcher, Gailking Shooting Fist

VEX robotics designer kit

1950s ROBBY THE ROBOT V-3 SPACE TANK made by Yoshiya Japan

2008 ROCK EM SOCK EM ROBOTS THE ORIGINAL FIGHTING ROBOTS NEW SEALED
HIGH BID
$17.99

BIN: $24.99

Vintage Radar Robot Wind Up Tin Toy w/Box Free Shipping
PRICE
$13.99

or best offer

Godzilla fusion series burning Godzilla figure 2012

3 Buck Rogers jigsaw puzzles 1945 Dick Calkins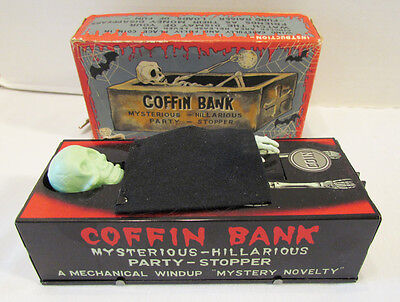 COFFIN BANK 1960's YONE JAPAN TIN WIND-UP MONSTER SKELETON TOY~WORKS W/ BOX
PRICE
$74.99

or best offer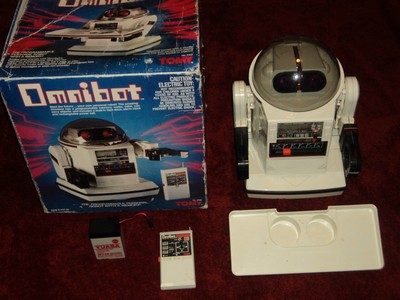 WORKING ! JAPANESE ROBOT TOMY OMNIBOT 5402 - BEST BIRTHDAY GIFT EVER !!! VIDEO!