AMAZING 20/32" PELTIER MARBLE ***LOOK***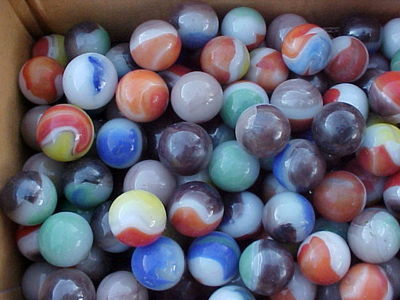 100 MIXED VINTAGE VITRO AGATE MARBLES FROM A LARGE MIXED LOT $19.99

Lot Of 16 Black Plastic Marble Stands Fits 5/8" To 1"+ Size Marbles

Lot of 16 1" Assorted Marbles Outstanding Mix Awesome Lot Moods & Emotions Too

Lot of 6 1" Marbles Shooters Goldfish Marbles Orange Gold Wire Pull Marbles nn

36 MARBLES (in 3 packs of 12 each)

150 BEAUTIFUL MARBLE KING 9/16 MIXED MARBLES

Vintage Marble

Lot Of 6 From Mega Marbles Shooters 1" Retired Moods And Emotions g

Lot Of 6 From Mega Marbles Shooters 1" Retired Moods And Emotions r

Lot #10 * Assorted Antique & Vintage Marbles * Two Popeye's *

Marley Experimental marbles 1 POUND in a Small Priority Box

MASTER MARBLE SUNBURST 19/32" VINTAGE TRANSPARENT MARBLE ONIONSKIN APPEARANCE

Yellow Vintage Marbles, regular size

Marbles, Jabo, Pastel Crystal Run, -3/4"m Transparency #205

lot of antique clay marbles, 71 plus 1 shooter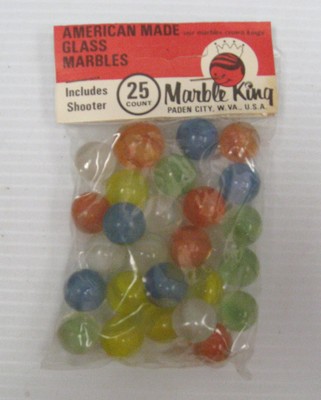 MARBLE KING Cats Eye marbles 1 unopened vintage package of 25 marbles.

lot of antique clay marbles, 56 plus 2 shooters

#591m. Group of Vintage Marble King Marbles Tiger Girl Scouts and Hybrid Marbles

#487m. Beautiful Contemporary Ribbon Swirl Marble

HUGE LOT OF 750 OLD MARBLES - COLORFUL FUN - VARIETY OF COLORS, STYLES & MAKERS

BAG OF100 NEW CONDITION "MARBLE KING" CAT EYE MARBLES $6.99

Winchester 100th Anniversary 1866/1966 1 " Machine Made Black Glass Marble

VINTAGE PELTIER RAINBO PEE-WEE's SET OF 10, .38" - .53", NINE ARE MINT

Lot of 11 Collectable SAMMY'S MOUNTAIN MARBLES Plus Jabo WVMCC

Lot of 11 Collectable Sammy's Mountain Marbles plus Jabo WVMCC Swirl

Machine Made Marbles, Vintage Lot of 11 , ? Spiderman and others similar

MARBLES Lot of 6 Jabo MAMIE'S FAMILY RUN Egg Shell Blue/Yellow Swirls

Set of 2 Bags Of Coca Cola Marbles

Set of 2 Bags Of Superman Marbles

2 PillsburyDoughboy Glass Marbles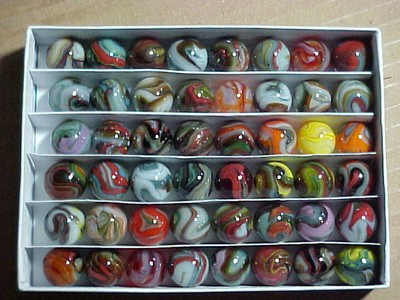 BOX SET of 48 SAMMYS MOUNTAIN MARBLES "MARBLE BUDDIES 2013 WEST VIRGINIAS"

2 PillsburyDoughboy Blue Glass Marbles

Set of 2 Bags Of Popeye's Pee Wee's Marbles

Set of 2 Bags Of Moutain Dew Marbles
VINTAGE Blue Carnival Glass ?? 1 1/4" Shooter Marble

7 Agate Marbles 6 Small & 1 Shooter Marble from Estate

Set of 2 Bags Of Spiderman Marbles

Set of 2 Bags Of The Beatles Marbles

Set of 2 Bags Of Uncle Remus Marbles