2013 Burger King JURASSIC PARK 3D Toys Complete Set Of 8!

VINTAGE 20 PIECE MCDONALDS FAST FOOD TOY LOT! TINY TOONS, BOBBY'S WORLD, MORE!

MCDONALDS SKYLANDERS GIANTS MCDONALDS SET 1-9 HAPPY MEAL TOYS IN HAND

LOT OF 28 100 YEARS OF MAGIC DISNEY FIGURES McDONALDS 100 YEARS OF MAGIC NICE

Lot of 2 McDonald's Transformers Toys 2013 & 2010 OOP

Complete set of Burger King Star Wars Episode III toys

* MIP 1992 McDonalds Mystery Lost Arches Mint Set & U3 - Lot of 5

1999 Burger King CatDog in Bed Kids Meal Toy. Original Package. Nickelodeon.

1990 Barbie McDonalds Happy Meal Toys Lot of 14 Mattel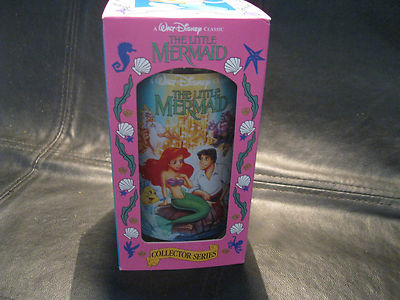 Little Mermaid "Rare 1994 Burger King Glass"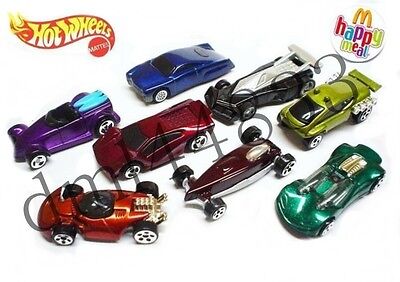 * MIP 1999 McDonalds Hot Wheels Mint Set - Lot of 8

Taco Bell Kid's Meal Toy Goosebumps The House in Dark Falls 3-D Puzzle

1988 McDonalds - Mac Tonight Travel Toys set of 6+U3 *MIP*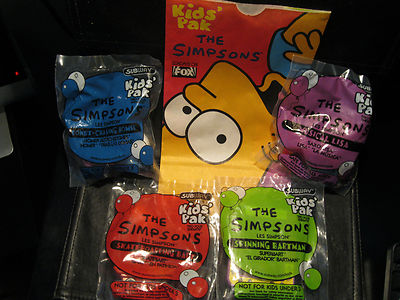 The Simpsons "Complete Set Of Four Toys" Subway 1997

* MIP 2005 McDonalds Witch Mint Set - Lot of 6

The Simpsons 1990 Vintage Burger King Set From 1990

* MIP 2002 McDonalds Beauty & the Beast Mint Set - Lot of 6

Toy Story "8 Toy Set" NIP Burger King Dated 1996 Plus 3 Cups & Coloring Matt

McDonalds 2013 Skylanders Giants set of 9 plus bonuses!!!!!!!!!!!!!

Burger King "Rugrats The Movie" 12 Toy Set MIP

* MIP 2002 McDonalds Winnie the Pooh Mint Set - Lot of 6

Collectable Fast Food Toys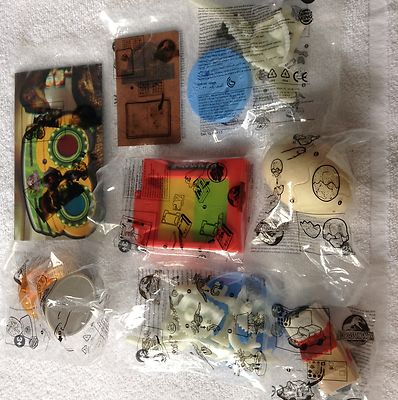 JURASSIC PARK 3D 2013 BURGER KING TOYS. COMPLETE SET OF 8. BRAND NEW!!!

LITTLE TIKES MINI RED FIRE TRUCK RARE

McDonalds CAT SCRATCH Figures Happy Meal Toys Set of 9

Vintage 1995 McDonald's Power Rangers MIP Complete Set

MCDONALDS 2013 SET FIJITS FRIENDS SHIMMIES 6 MINT IN HAND

Vintage 1999 McDonald's Disney Toy Story 2 Complete Set of 6 Candy Dispensers

BEE Movie McDonalds Happy Meal Toy set 6 BEE MOVIE TOYS 1 NIP

Vintage 1994 McDonald's Disneyland Adventures Complete Happy Meal W/ Under 3

* MIP 2006 McDonalds Nintendo Mario Mint Set - Lot of 6

Lot of 5 1998 McDonald's Furbies

* MIP 1997 McDonalds Skydancers Mint Set - Lot of 4

Glinda the Good Witch doll Mc Donalds #2

* MIP 2006 McDonalds Stylin' Trollz Mint Set - Lot of 8

buger king The Lord of The Rings GALADRIEL

1993 McDonalds Batman Figure MIP Sealed in Package Happy Meal Toy Figure

Outback Restaurant 13 Pins And 1 Wendys Name Tag.

NakNak Nak Nak Toy #7 McDonald's 2003 NIP Hasbro Happy Meal Toy

MCDONALDS 1996 DISNEY ALADDIN & KING THIEVES COMPLETE SET OF 8 NEW SEALED