Sports Illustrated January 12, 1970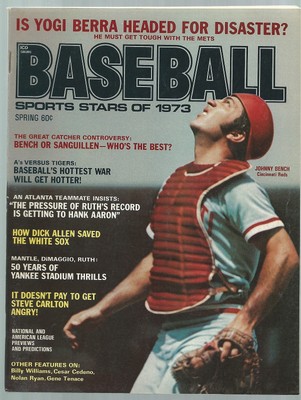 1973 Baseball Sports Stars Annual Magazine Johnny Bench Cincinnati Reds
PRICE
$15.95

or best offer

1955 NASCAR Rule Book. Rare vintage find.

SPORTS~ILLUSTRATED~1ST~ISSUE~AUGUST~16TH~1954~WITH~PERFECT~CARDS

1993-94 & 1995-96 Boston Bruins Hockey Programs NHL Red Wings, Whalers Vintage

Vintage Pittsburgh Steelers SI Super Bowl Lynn Swann
HIGH BID
$2.99

BIN: $4.99

Official 1990 World Series Program Cincinnati Reds vs Oakland A's

Vintage Pittsburgh Steelers SI Super Bowl IX Bradshaw
HIGH BID
$2.99

BIN: $4.99

Vintage 1987 Boston Bruins NHL Hockey Program vs Montreal @ Providence RI RARE

vintage SPORTS ILLUSTRATED 10/16/1967 LOU BROCK St.Louis Cardinals World Series

1951 YANKEE STADIUM OFFICIAL PROGRAM & YANK 'S NEWSLETTER BOSTON VS. YANKEES

Lot of 11 Vintage Sports Books Baseball/Football/Basketball- Scholastic books

Toronto Maple Leafs Official 1993-94 Yearbook Captain Wendal Clark cover
HIGH BID
$18.75

BIN: $24.75

Tournament of Roses 1955 Official Program for the Rose Bowl

1992 Baseball Digest Yearbook Annual Magazine Ripken Clemens Bonds Puckett Clark
PRICE
$15.95

or best offer

1976 AFC NFC Championships Football Program Pro Post-Season Edition

Vintage Washington Senators Baseball Pocket Schedule Photo Lot Ted Williams

SIDNEY CROSBY PENGUINS 5/13/13 Sports Illustrated *NO LABEL-MINT-UNOPENED*

Dallas Stars Inaugural Year 1993-94 Yearbook - First Year Issue
HIGH BID
$11.95

BIN: $15.95

1989 STREET and SMITH Baseball Magazine--McREYNOLDS cover

Buffalo Sabres Special 10th Anniversary Issue Yearbook 1970-80
HIGH BID
$18.95

BIN: $24.95

MIAMI AMERICANS v PENNSYLVANIA STONERS SOCCER PROGRAM JUNE 6 1980

a Sports Illustrated 1954 2nd Iss Mantle Baseball Cards UpgradeYourCollection!!!

The Baseball Autograph Collectors Handbook Address List Jack Smalling

THE SPORTING NEWS- BETTING SCARE MAY CHANGE MY VOTING-12/7/1949

1989 STREET and SMITH Baseball Magazine--GRACE/SABO cover

SOCCER. GULF DAILY NEWS WORLD CUP SPAIN 1982 PROGRAM

March 24 1975 Chuck Wepner Boxing Vintage Sports Illustrated Magazine OLD Ali

New York Giants Super Bowl 42 and 46 Programs and Sports Illustrated issues.

THE SPORTING NEWS DODGERS WILL PLAY 20 GAMES IN JAPAN-9/19/1956

1986 STREET and SMITH Baseball Magazine--K.C. ROYALS cover

BOB GIBSON STATUE UNVEILING POSTCARD RARE GIVEAWAY ST LOIUS CARDINALS HOF

L.A.AZTECS v MIAMI TOROS . NASL CHAMPIONSHIP GAME 1974 PROGRAM

1980 PRO FOOTBALL GUIDE VINTAGE MAGAZINE TERRY BRADSHAW GREAT SHAPE

VINTAGE MINT UNREAD SPORT BOOK MIND GAMES TIM MANTOANI THE MENTAL ARENA OF SPORT

NO LABEL SPORTS ILLUSTRATED SIDNEY CROSBY COVER 2013 PENGUINS *SEALED* NEW

SOCCER AMERICA MAGAZINE. MARCH 20 1980. NASL PREVIEW 1980

SOCCER, QUALIFICATION PROGRAM. 1982 WORLD CUP. CANADA, MEXICO, UNITED STATES.

March 1 1976 Muhammad Ali Boxing Sports Illustrated Vintage Magazine Vintage OLD

THE SPORTING NEWS FARMING BEYOND PRACTICAL LIMIT--B.R. 11/3/1948