Modelo - baseball cap/ hat -Modelo beer collectible
HIGH BID
$4.98

BIN: $6.95

Tecate light - Metal bottle opener on a necklace cord - NEW
The John Wayne Collection (DVD)

Mickey as the Sorcerer from Disney's Fantasia Plush KEYCHAIN
HIGH BID
$2.76

BIN: $8.65

Red Hat " Red Hatter " Bag *Beautiful & Brand New with tag *
PRICE
$12.95

or best offer

ELVIS PRESLEY- collectible coin set- 4 coins- from HARRAHS Casino
HIGH BID
$42.56

BIN: $55.76

Elsie Playing Cards - Bordon's Elsie the Cow- NEW,Sealed - Never opened !

Sandra Lee Semi-Homemade Cookbook - paperback 2001

Girl Scouts - Green, metal,tin, Juliette Gordon Low mailbox - wall hanger- NICE
HIGH BID
$8.97

BIN: $15.23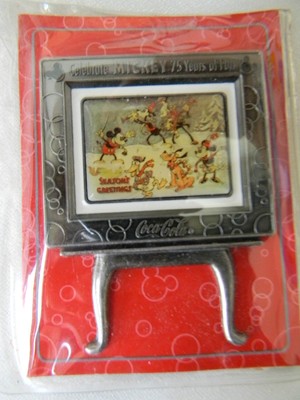 Mickey Mouse- 75 Year Anniversary Coca-Cola -metal picture and easel- CUTE NEW
PRICE
$9.23

or best offer

Hankook Chinaware- set of Unusual small fine bone china mugs- Korean Police HTF
HIGH BID
$9.88

BIN: $18.88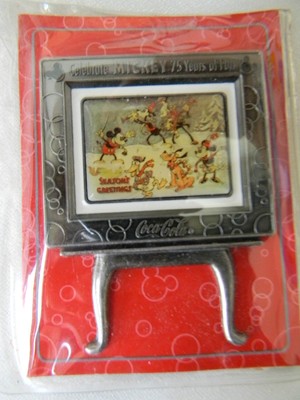 Mickey Mouse- 75 Year Anniversary Coca-Cola -metal picture and easel- CUTE NEW

Disney Winnie the Pooh cast iron door stop- Beautiful colors, EUC- Marked DISNEY

HORSESHOE CASINO Keychain NEW

HONEYMOONERS TV Show-retro looking Salt and pepper shakers- NIB- GREAT GIFT

Stinky cigar ashtray- 1stirrup- metal
HIGH BID
$4.65

BIN: $7.98

EFFENBEE Wizard of Oz "Dorothy" Doll from the Story book series NRFB NEW

Marilyn Monroe Tape measure- metal casing- great picture of MM- NEW !!!
HIGH BID
$6.20

BIN: $11.77

Paris Las Vegas Keychain- New- Very Elegant !
PRICE
$7.11

or best offer

Lou Rankin's Little Creations " McKinley " 1994 Hallmark- CUTE Bear !

Jack Daniels bottle stopper- Wood and cork stopper - logo on top- NWOT

TOBY KEITH Keychain - metal- is also a bottle opener- HTF item *** NEW

Versace Tie- Luxurious Tie 100% silk made in Italy- original Versace box/sleeve

Disney- Walt Disney Productions -plate, bowl and mug- Mickey & Friends Bar-B-Q
PRICE
$13.45

or best offer

Weight Watchers measuring serving spoons- plastic- 1 cup and 1/2 cup -originals
HIGH BID
$15.78

BIN: $25.98

BETTY BOOP fabric doll NEW in bag, has tags 13" long NWT " Marilyn Betty "

B. Makowsky keychain- large "B" with B.Makowsky, metal with blue leather
HIGH BID
$6.98

BIN: $9.23

BETTE MIDLER 3 CD Set- Caesars Palace- "Divine Miss M" -Showgirl Must Go On-NIB

HEREND toothpick holder - BEAUTIFUL marked on bottom, Birds & Butterflies
PRICE
$42.89

or best offer

Walt Disney World vintage Ashtray- great colors
HIGH BID
$7.89

BIN: $15.99

BUGS BUNNY - NWT BUGS as Carrot -Hard to find Beanie- Authentic Warner Brothers

Stella Artois - Beer- coaster set- 4 metal/cork coasters in tin holder HTF !
HIGH BID
$11.34

BIN: $14.83

RIO Las Vegas actual casino playing cards- two BLUE Decks of cards- L@@K

PLAYBOY tin glass bottom mug- bunny logo on it
HIGH BID
$8.96

BIN: $16.96

Maui Jim Sport Polarized Sunglasses- NEW with MJ case MJ-406-10

GUCCI Sunglasses- rimless - EUC- GG 1711/S Silver colored
PRICE
$104.50

or best offer

HTF Item- Bette Midler " Bathhouse Betty" Facial Cream - NEW Never Used 4oz

PBR Professional Bull Rider's tack pin- NEW HTF item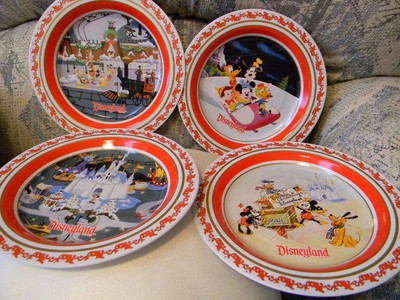 Disneyland set of 4 collectible metal/tin plates-each w/ different picture! NEW
HIGH BID
$7.98

BIN: $15.65

LAURA ASHLEY- Eyeglass case and coin purse- NEW never used items !
PRICE
$12.56

or best offer