Transco Model 82152-919C70100 DC-18GHz, 28VDC, SPDT Failsafe Relay TESTED

(5) Westek TC-LP250 Dual Bantam Looping Plugs 3 Conductor P/N 672X720 NOS

(2) HP 5328A 500MHz Universal Counter Display/Function Frequency Res Sample Rate

Mitec A6516-3 Rev. 11 WR-229 Waveguide Filter 3.6-4.2GHz TESTED

Dorado DCG28-10E KA-Band WR-28, 26.5-40GHz, 10dB, Directional Coupler TESTED

1/4" Steel Wire Rope 30in Long With 3/8" Ball Ends New Old Stock

Apollo 10608 WR75 100 Plus Watt Waveguide Dummy Load 10-15GHz TESTED

WR90 Waveguide Termination 8.2-12.4 GHz Labeled "502B 85DD11" New Old Stock

HP 431C Power Meter -20 To +10 dBm, .01 To 10mW, 7 Ranges W/Manual TESTED

Wayne Kerr B331 Autobalance Precision Bridge With Nixie Displays and Manual

Sound Technology 1710A Distortion Measurement Sys. Auto-Null -80 To +40dB TESTED

Set Of Bell Fiber 4ft Test Leads For Your Bench Or Bag With Assorted Tips NOS

Guildline 9152/6S Standard Cell Reference 6 Cells Electro-Chemical

HP 34905A 2GHz, Dual 1:4 RF Mux, 50Ohm Module For 34970A/34972A Data Acq. TESTED

Lambda Electronics Com-Pak C-281 C-281M Manual

(3) SONY XC-37 CCD Video Camera Modules Untested

RF Bias Tee 1-3GHz, Matched At 2.7-2.8GHz, SMA-Female TESTED

HP 412A DC Vaccum Tube Voltmeter Op & Service Manual []

Mini-Circuits ZA3PD-1.5 3-Way Power Splitter/Combiner 750-1500MHz 10W TESTED

Mini-Circuits LZY-2 High-Power RF Amplifer 500-1000MHz 46dB Gain, 32W 28V TESTED

(2) Darcy Current Shunts 10-6 & 10-7 Scale, 1k & 10k Ohms, 10 & 100uA TESTED
MECA 401-1F3 N-Male 50 Ohm Termination Load 7814

(2) Darcy Current Shunts 10-4 & 10-5 Scale, 10 & 100 Ohms, 10mA & 1mA TESTED

Fairchild 320359 Panel Meter 5V, F.S. Range +/-199.9mV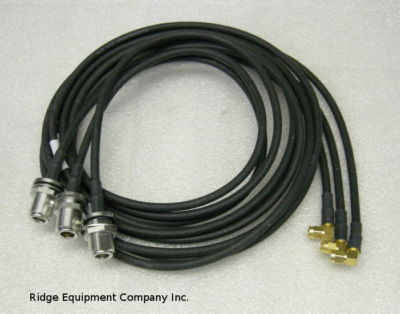 Qty 3 Rosenberger 6ft N-female to SMA male cables 2876

Mini-Circuits ZRON-8G Coaxial Amplifier 50 Ohm, 2-8GHz, +30dBm, SMA-F TESTED

Mini-Circuits ZAPD-4 Splitter/Combiner 2-4.2GHz N-Female TESTED

Anaren 4B0205 2 Way SMA Power Divider 3 GHz 4923

Gardiner LNB WR75 To F-Female 11.7GHz-12.2GHz In, 950-1450MHz IF, 58dB TESTED

Interpoint MHE2815D DC To DC Converter 17-40 VDC In, 14.85-15.15 VDC Out TESTED

100 Watt 50 Ohm Dummy Load 1MHz-1GHz N-Female W/BNC-Female Pickoff Port TESTED

(8) Pace 1121-0414-P5 Chisel Soldering Tips, 1.6mm NEW!

(9) Bendix Or Honeywell 2129450-544 Emer. Cont Indicator Light/Lens Modules NOS

Norsat 6600A Digital Ku-Band DRO LNB 11.7-12.2GHz, +3dBm TESTED

Raditek Waveguide Isolator 17.7-26.5GHz, WR42, Split Bands 10% BW, 0.5-10W Rev.

Hakko 472 Desoldering Station With 807 Iron And Holder TESTED

HP 34905A 2GHz, Dual 1:4 RF Mux, 50Ω Module For 34970A/34972A Data Acq.

MECA KS-21603 L7 Directional Coupler -20dB

Wiltron 6659B 10 MHz-26.5 GHz Programmable Sweep Generator TESTED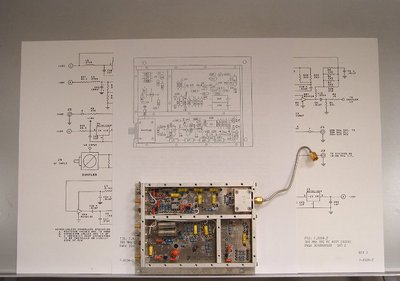 Gigatronics A104 300 MHz Oscillator PC Assembly For 600 Series Synth. Sig. Gen.