Staffordshire Liberty Blue Set/ 8 Bread & Butter Plates Monticello Ironstone

222 Fifth China Rococo Set of 2 Black & White Mugs NEW! porcelain dinnerware

Fitz & Floyd St. Nicholas Oval Serving Platter Santa Reindeer Christmas Tree

NEW Corsica Crown Jewel Set/ 3 Round Salad Plates Tabletops Gallery Unlimited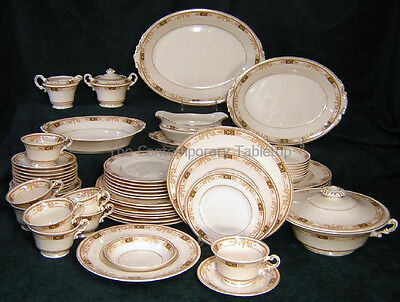 64 pc Set Syracuse Heirloom Old Ivory Porcelain Fine China Service/ 8 Webster

27 pc Set Towle Gold Flatware Supreme Cutlery Japan Gold Cane Bamboo

Royal China Star Glow Mid Century 1960's Atomic Age Set/ 3 Coupe Bowls snowflake

Royal China Star Glow Mid Century 1960's Atomic Age Set/ 4 Dinner Plates

222 Fifth China Porcelain Teardrop Serving Salad Pasta Bowl NEW!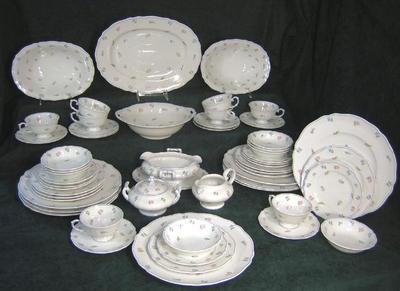 56 pc Set Grandma's Heirloom Porcelain China Tiny Flower Petit Fleur Service/ 8

30 pc Set Noritake Heirloom China Mid Century Modern 1950's 1960's Service/ 4

Set/ 8 Antique Crown Ducal Florentine Embossed Della Robia Luncheon Plates 9"

NEW Dutch Wax Pink Peony Set/ 4 Salad Dessert Accent Pie Plates 8-3/8"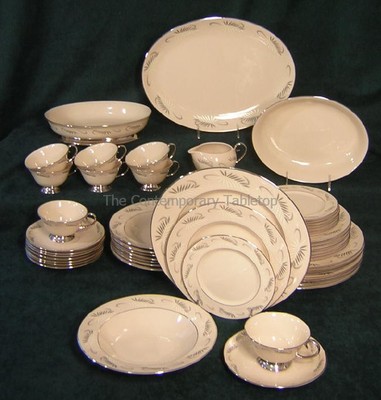 52 pc Flintridge California Mad Men 1950's/1960's Heirloom China Service/ 8

Stangl Garland Set/ 4 Lugged Bowls

Staffordshire Liberty Blue Set/ 4 Mugs Monticello Ironstone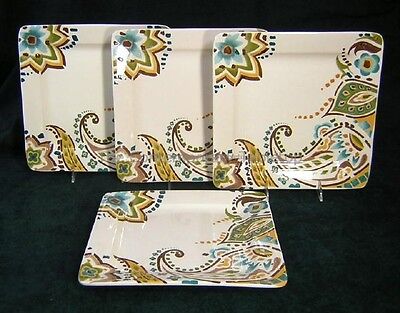 NEW Target Home Kashmir Set/ 4 Square Dinner Plates paisley retro modern

20 pc Set Royal Doulton Valleyfield Heirloom China Service/ 4 Lily of Valley L3

Franciscan Autumn Leaves Set/ 4 Bread & Butter Plates Mid Century Modern

Spode Jasmine 8-3/4" Pasta Salad Bowl NEW special coloration! England

Noritake Vasona Heirloom Fine China Set/ 7 Fruit Dessert Berry Bowls MINTY!

Noritake Heirloom China Set Barrymore Lotus Blossom Service/ 4 8 12 plate bowl

Tabletops Gallery Unlimited Argentina Dinner Plate NEW!

60 pc Set Fitz Floyd Peach Band Heirloom Porcelain China Service/ 8 Renaissance

19 pc Royal Doulton Valleyfield Heirloom China Service/ 4 Lily of the Valley L1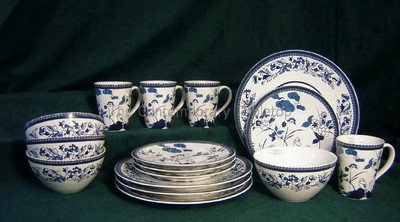 NEW 16 pc Set Roscher & Co. Cherry Berry Oriental Modern Service/ 4 plate bowl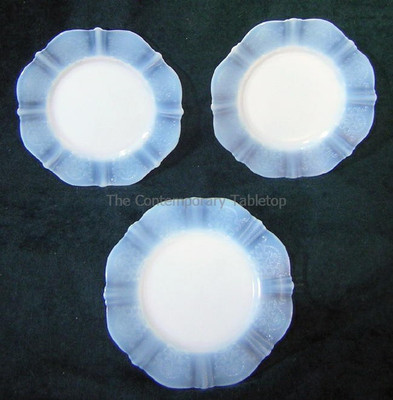 Monax American Sweetheart Set/ 3 Bread & Butter Plates MacBeth-Evans Glass

Tabletops Unlimited Havana Set of 4 Footed Mugs multi color stripe NEW!

Franciscan Autumn Leaves Set of 2 Mugs Mid Century Modern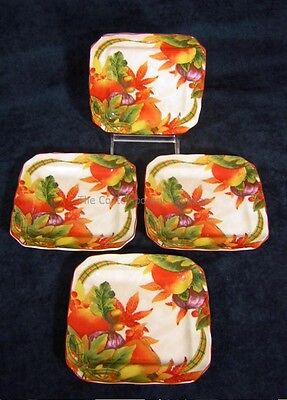 222 Fifth China Autumn Celebration Harvest NEW! Set/ 4 Appetizer Snack Plates

Corsica Rumba Set/3 Round Salad Plates NEW! Tabletops Gallery Unlimited

Royal Worcester Lavinia (Cream) Set/ 4 Salad Plates MINTY!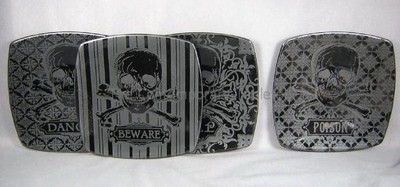 222 Fifth China Black Skulls Set of 4 Appetizer Plates NEW! danger beware poison

222 Fifth China Halloween Beware Hallow's Eve Treat Plate NEW! spider crow bat

Ralph Lauren Silk Ribbon Pearl Set of 4 Salad Plates NEW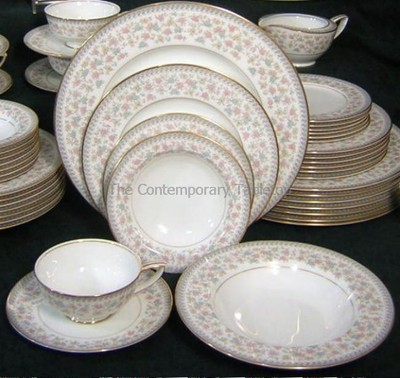 60 pc Noritake Service/ 8 retro Mad Men Mid Century Heirloom China #6933

Shenango Restaurant Ware Floral Leaf Scroll Set/ 2 Dinner Plates Red & White

Lenox Butterfly Meadow Set/ 3 Water Goblets NWT

Mikasa Charisma Gray Heirloom Fine China Round Vegetable Serving Bowl

222 Fifth China Yuletide Celebration Poinsettia Set/ 4 Mugs NEW Christmas