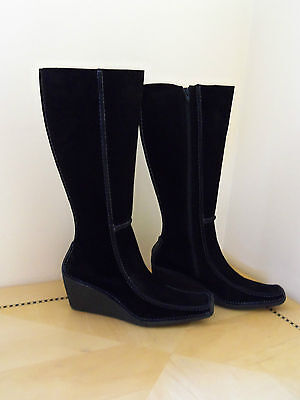 PONS QUINTANA 1953 BLACK SUEDE BOOTS WEDGE HEEL SIZE 11 US 41 EURO SPAIN MADE!

VELLACCIO MEN'S WATCH STRETCH BAND TWO-TONE GLOW IN DARK DIAL WATER RESISTANT!

WOMEN'S TIMEX WATCH EXPANSION SILVER BAND INDIGLO PINK NIGHT LIGHT MODEL T2G291

GENEVA WOMENS STRETCH EXPANDABLE BAND TWO-TONE DESIGNER STYLE GLOW IN DARK DIAL!

WOMEN'S GENEVA WATCH SILVER ELEGANT SURROUNDED BEVELED DIAL BRAND NEW STYLE!

PAUL JARDIN WOMEN'S WATCH TORTOISE ACRYLIC WITH ROSE GOLD SURRONDED CRYSTAL DIAL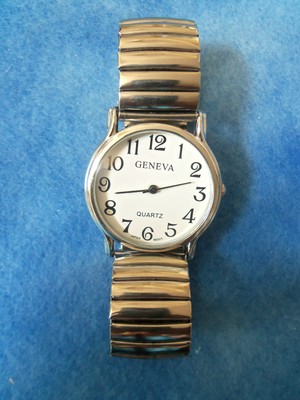 MEN'S GENEVA QUARTZ WATCH SILVER STRETCH BAND QUARTZ EZ TO READ WHITE DIAL NICE!

NURSES WATCH GOLD TONE PIN BLACK DIAL EZ TO READ GLOW NUMBERS & HANDS AWESOME!

NURSES WATCH GOLD PIN NURSING+ ENGRAVED GLOW IN DARK DIAL EZ TO READ BEAUTIFUL!

GENEVA WOMEN'S BONE/WHITE ACRYLIC WHITE DIAL WITH STATIC CHRONO EYE DIALS CUTIE!

PONS QUINTANA 1953 BROWN SUEDE FUR BOOTS WEDGE HEEL SIZE 7 US 37 EURO SPAIN MADE

MEN'S SUNGLASSES AVIATOR AREA UNLIMITED POLORIZED 100% UVA & UVB METAL FRAMES!

GENEVA DESIGNERS WOMEN WATCH CLEAR ACRYLIC (CERAMIC LOOK) GOLD CRYSTAL BEZEL!

MEN'S MIYKON WATCH WATERPROOF GOLD TONE METAL LINK BAND WHITE DIAL DAY & DATE!

MEN'S WATCH WATER RESISTANT DESIGNER STYLE BLUE SILICON/RUBBER BAND DESIGNER!

SANTINI WATCH OVERSIZED DESIGNER STYLE GUN METAL BEZAL BLACK LEATHER BAND NEAT!

MOTORCYCLE BIKERS WATCH BIKER SILVER CHAIN BAND NEW ITEM HOLLYWOOD 8000 AWESOME!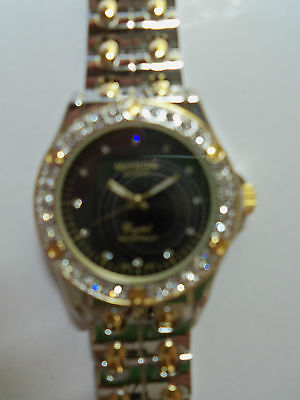 NEW ARRIVAL - MIYKON QUARTZ WOMEN'S WATCH CRYSTAL BEZEL WATER PROOF TWO TONE!

DONNA VIVIAN WATCH WATERPROOF BLACK ACRYLIC ROSE GOLD DIAL SCREW DESIGN AWESOME!

BERMUDA HANDBAG PURSE REVERSIBLE 2 IN 1 AMAZING DESIGN BRAND NEW WITH TAG NICE!

VINTAGE JADE NECKLACE WITH ROSE PENDANT STERLING SILVER 925 BEADS & CLOSURE NICE

MEN'S SWANSON WATCH GOLD TONE METAL BAND RELIGIOUS OUR LADY OF GUADALOPE & JESUS

GENEVA CRAWFORD BOYFRIEND TWO TONE SILVER/YELLOW GOLD 3-D WHITE DIAL GOLD ACCENT

DIAMOND MASTER WATCH GENUINE WHITE DIAMOND PEARL DIAL ON BLACK LEATHER BAND NICE

NEW ARRIVAL GENEVA OVERSIZE CRYSTAL FACE 3D SILVER METAL DESIGNER CHRONO STYLE!

GENEVA MEN'S WATCH SILVER STAINLESS STEEL WITH LARGE DESIGNER BLUE DIAL AWESOME!

MEN'S PULSAR WATCH PQ2003 WORLD TIME BLACK URETHENE DIGITAL ALARM CHRONOGRAPH!

WOMENS TORTOISE BROWN WATCH & GOLD FINELY MADE WATER RESISTANT BY PAUL JARDIN!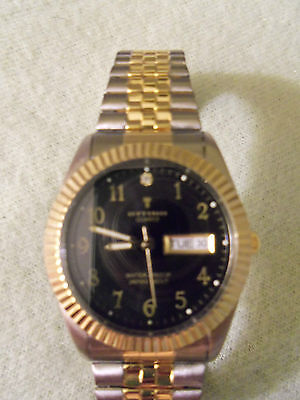 MEN'S OTTIMO WATCH BLACK DESIGNER FACE STRECH EXPANDABLE BAND GOLD NUMBERS CUTIE

TIMEX WATCH LADIES DAINTY BLACK BAND WATCH BRAND NEW MODEL T2GK751 2C GORGEOUS!

PONS QUINTANA Estela Made in Spain Black Suede Fur Wedge HEEL BOOTS 41.5 / 11.5!

BRAND NEW GOLF PLAYERS LOGO DIAL MEN'S WATCH WITH LEATHER BAND MUST SEE AWESOME!

MEN'S GENEVA WATCH SILVER METAL LARGE BLUE DIAL BRAND NEW STATIC CHRONO STYLE!

PURPLE GENEVA WOMEN'S WATCH 1" DIAL MATCHING METAL BRACELET CRYSTAL HOUR MARKERS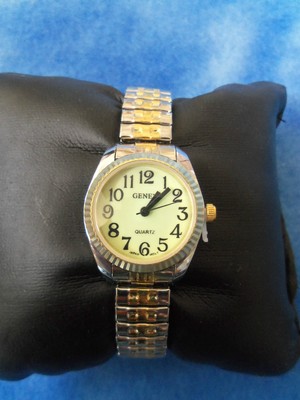 MEN'S GENEVA TWO TONE SILVER/GOLD LINK METAL STRETCH BAND WATCH GLOWS IN DARK!

MEN'S SWANSON WATCH DAY & DATE TWO-TONE BAND GREEN DIAL CRYSTAL 12 O'CLOCK NICE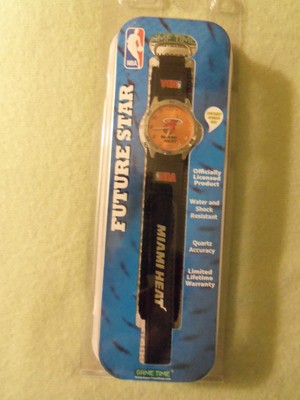 NBA MIAMI HEAT WATCH FUTURE STAR TEAM LOGO ADJUSTABLE STRAP WATERRESISTANT 3 ATM

REPAIR YOUR CLOCK MOVEMENT 3/4" SHAFT EASY TO INSTALL RESTORE BATTERY OPERATED!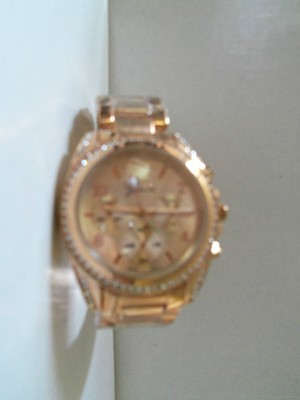 WOMEN'S GENEVA WATCH ROSE GOLD DESIGNER STYLE DAINTY CRYSTAL BEZAL

kish watch