VINTAGE MIRRORED VANITY TRAY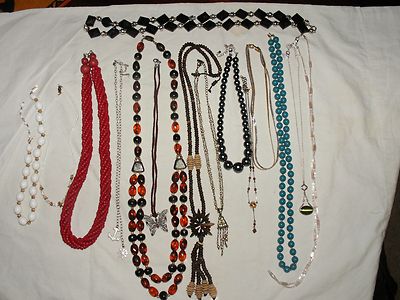 LOT OF 15 VINTAGE - NOW NECKLACES: TRIFARI, ARMANI EXCHANGE,1928, AVON

CHILD/GIRLS OUTFIT SIZE 7: SKIRT, TOP, JACKET

CHILD/GIRLS CARDIGAN SWEATERS: SIZE 6-6X

LOT OF 15 VINTAGE - NOW NECKLACES: JAPAN, BONNIE J, AVON, ZAD, CR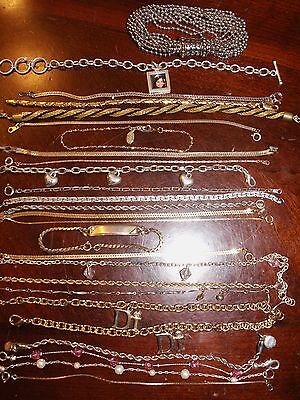 LOT OF THIN CHAIN BRACELETS

LOT OF SHOE CLIPS

LOT OF 20 VINTAGE - NOW NECKLACES: LIZPAIACIOUS, MARVELLA, EXPRESS, CLARA BEAU

2 VINTAGE/ANTIQUE STAMP UGANDA KENYA TANGANYIKA 15C

LOT OF 23 VINTAGE DRESS/SCARF CLIPS: W.GERMANY, TANCER, DMJ, ETC.

LOT OF GOLD FILLED JEWELRY: KREMENTZ, REAL PEARLS, STONES, CRYSTAL

ANTIQUE WRITING DESK SET: LEATHER AND GOLD INLAY, MADE IN ITALY

LOT OF 25 ITEMS OF VINTAGE-NOW RHINESTONE AND CABOCHON JEWELRY; SOME SIGNED

5-STRAND SILVER-TONE NECKLACE BY CHICO'S

LOT OF VINTAGE-NOW BEADS, 1 LBS.: GLASS, CTYSTAL, STONE, WOOD, LUCITE, ETC.

BEADED FRINGE: LOT OF 6 NEW PACKS

LOT OF VINTAGE MULTI-STRAND NECKLACES: JAPAN

PEWTER HAIR BARRETTE BY SEAGULL

LOT OF 15 VINTAGE - NOW NECKLACES: 1928, COQUET, MONET, MAGNABILITIES, ETC.

LOT OF 15 VINTAGE - NOW NECKLACES: GUESS, LAUNDRY BY SHELI SEGAL, COOL JEWELS

LOT OF 15 VINTAGE - NOW NECKLACES: ELLEN TRACY, GUESS, ARMANI EXCHANGE, RACHEL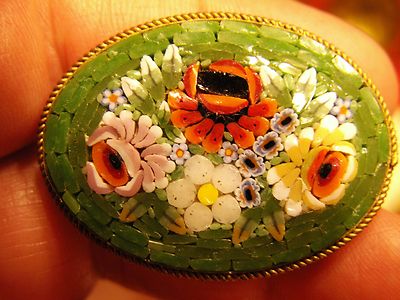 VINTAGE ITALIAN MICRO MOSAIC BROOCH

REAL FRESHWATER GROWTH BLACK PEARL 58" STRAND NECKLACE

RUSSIAN BLOWN GLASS FIGURINES: 3 TURTLES

LOT OF 15 VINTAGE - NOW NECKLACES: TRIFARI, EXPRESS, MARVELLA, CHERYL REIS

RUSSIAN BLOWN GLASS FIGURINES: 2 INSECTS, SPIDER AND ANT

RUSSIAN BLOWN GLASS FIGURINE: PEACOCK

VINTAGE WALT DISNEY PRODUCTIONS EARRINGS: MICKEY AND MINNIE

RUSSIAN BLOWN GLASS FIGURINES LOT: 3 DOG FIGURINES

RUSSIAN BLOWN GLASS 2-PC. FIGURINE: RABBIT WITH CARROT

LOT OF 3 RUSSIAN BLOWN GLASS FIGURINES: FOX, MOOSE, GIRAFFE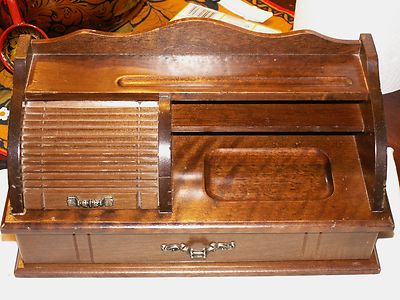 DESK ORGANIZER: WOOD

LOT OF VINTAGE-NOW BEADS, 2 LBS.: GLASS, METAL, PEARL, STONE, WOOD

VINTAGE NECKLACE BY JUICY COUTURE
Picture the Dead by Adele Griffin (2010, Hardcover)

CHILD/GIRLS CLOTHING LOT, SIZE 6-8

LOT OF 7 BLOWN GLASS ANIMAL FIGURINES: CLEAR AND GOLD PLATED

BEAR BROOCH BY JJ

DISNEY RETIRED MICKEY MOUSE PIN: 1993 CHRISTMAS

LOT OF VINTAGE OWL JEWELRY