LOVELY (LOT) SET Vtg. GOLD TONE FILIGREE FISH BROOCH AND HOOP EARRINGS SHOWY

GORGEOUS NAPIER Vtg. HEAVY NECKLACE GOLD TONE CONES 30" L PERFECT
PRICE
$21.50

or best offer

LOVELY VINTAGE LUCITE / PLASTIC CLEAR NECKLACE PINK BEADS CUTE

RARE Vtg.SET MULTI STRAND NECKLACE & EARRINGS SHADESof GREEN BROWN MIXED BEADS

GORGEOUS VINTAGE Sgn.CASTLECLIFF NECKLACE/CHOKER MARBLEIZED BLUE&RED GLASS BEADS
PRICE
$21.50

or best offer

LOT (2) PAIR EARRINGS, PATRIOTIC 4th OF JULY, RED BLUE WHITE, FLOWER, BALL, STAR

GORGEOUS MODERNIST Vtg. SQUARES BLACK ENAMEL BROOCH PEACH RHINESTONES GOLDTONE

GORGEOUS Vtg. OPERA LENGTH NECKLACE FAUX PEARLS METALLIC BEIGE AND SOFT BROWN

GORGEOUS SIGNED Vtg. SET PENDANT NECKLACE AND POST EARRINGS MIDNIGHT BLUE EXCLL

GORGEOUS LARGE CHANDELIER / PEACOCK TAIL DROP EARRINGS PURPLE ORANGE RHINESTONES

GORGEOUS Vtg. CHATELAINE BROOCH,CROSS,COAT OF ARMS, LION, FAUX MALACHITE DANGLES

PRETTY Vtg. INTAGLIO CLIP EARRINGS ROMAN WARRIOR FAUX ONYX

LOVELY VINTAGE CERAMIC BEAD NECKLACE HAND PAINTED SHADES OF BLUE AND BEIGE

Vtg.Sgn.ALVA MUSEUM REPLICA HUGE MEDALLION NECKLACE"FLYING HORSE of KANSU" 1974
PRICE
$24.50

or best offer

GORGEOUS (SET) NECKLACE AND EARRINGS MERRY-GO-ROUND HORSE UNICORN ANTIQUE GOLD/T
PRICE
$33.50

or best offer

LOVELY Vtg.KOI FISH TACK PIN / BROOCH, RED, BLUE ENAMELED, CLEAR RHINESTONES

STUNNING Vtg. SET BROOCH AND CLIP ON EARRINGS TWO HEADED TROJAN HORSE GOLD TONE
PRICE
$54.99

or best offer

GORGEOUS Vtg. HUGE MALTESE CROSS, WIRE WORK GOLD TONE THREE DIMENSIONAL XLL.

AWESOME Vtg. LUCITE FAUX AMBER NECKLACE GOLD/T WIRE CAGE STYLE PERFECT

GORGEOUS,SET BROOCH / NECKLACE, & EARRINGS, OFF WHITE ENAMELED, PINK RHINESTONES

GORGEOUS, 12 K GF, Vtg. GRAPE / CLUSTER EARRINGS REAL PEARL, CLIP BACK, PERFECT

LOVELY VINTAGE GENUINE ABALONE STRETCH BRACELET

EYECATCHING SET NECKLACE/CHOKER & CLIP EARRINGS FAUX PEARLS CRYSTAL RHINESTONES

LOVELY NAVAJO EARRINGS HAND MADE FAUX TURQUOISE, BROWN, WHITE SEED BEADS

LOVELY,Vtg. DANGLING LADY BUG EARRINGS RED JELLY BELLY ICE RHINESTONES VERY CUTE

CUTE "THREE KITTENS"CATS DANGLING FIGURAL BROOCH GOLD TONE CLEAR RHINESTONES XLL

ELEGANT (SET) Vtg. TULIP FLOWER METAL BROOCH AND CLIP EARRINGS WHITE ENAMELED

ADORABLE Vtg. SCOTTISH TERRIER DOG BLACK AND CLEAR PAVE RHINESTONES SHIMMERS

SPARKLY LARGE Vtg.TORTOISE / TURTLE BROOCH GOLD TONE ICE RHINESTONES VERY CUTE

GORGEOUS AVON SET CUFF BRACELET& BROOCH WHITE CABOCHONS GOLD TONE PERFECT CON.

DAZZLING FASHION FLOWER BROOCH 3D FUCHSIA / PURPLE RHINESTONES SILVER TONE USA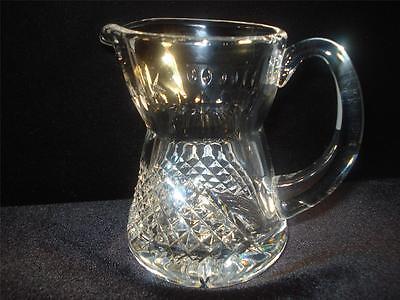 WATERFORD CUT CRYSTAL CREAMER / JUG "ALANA" PATTERN EXCELLENT CONDITION

(SET) Vtg. JAPAN SHIMMERING NECKLACE AND CLIP EARRINGS AURORA BOREALIS BEZEL XLL
PRICE
$32.50

or best offer

GORGEOUS LENOX CHINA/ PORCELAIN "JEWELS COLLECTION" DUCK FIGURINE EXCELLENT COND

(LOT) 2 SUMMER EARRINGS ROYAL BLUE OFF WHITE STRIPES HELM ANCHOR GOLD TONE CUTE

LOVELY Vtg. NECKLACE HUGE CAGE BALL FAUX PEARL DANGLES 30" LONG LINK CHAIN

GORGEOUS LENOX VASE "BUTTERFLY MEADOW" COLORFUL 8" HIGH EXCELLENT

DAZZLING VItg. HUGE DOOR KNOCKER CLIP EARRINGS CRYSTAL RHINESTONES GOLD /T ROPE
PRICE
$21.50

or best offer

EXQUISITE Vtg.Sgn. DENBE COLLAR/BIB NECKLACE BRICK PANEL LINKS CLEAR RHINESTONES

STUNNING Vtg. Sgn. BLANCA DOMED/BALL EARRINGS PAVE CRYSTALS CLIP BACK DAZZLING