1 RareMetlox Poppytrail Provincial Rooster 9" Salad / Lunch Plates - Older Mark

13" Oval Serving Platter Green Rooster, Metlox/Poppytrail

7 1/2 " Salad Plate Green Rooster, Metlox/Poppytrail

POPPY TRAIL METLOX VERNON VINTAGE PINK SCULPTURED GRAPE 7.5" SALAD PLATE EUC

RARE Vintage METLOX Pottery ~CALIFORNIA IVY~ FLAT Rectangle VASE /PLANTER~ Ex

Metlox/Poppytrail SCULPTURED DAISY, matte: 6 dinner plates, 2 cups, 2 saucers

Metlox Poppytrail California Free Form Dessert Salad Berry Bowl Tab Handle

Vernonware Anytime Vintage Kilns Mid Century Atomic Metlox 2 Serving Bowls 7.75"

Metlox Poppytrail Large SCULPTURED DAISY PLATTER 14 1/2" Poppy Trail

Vintage Metlox Poppytrail "California Strawberry" Cereal Bowl (s)
PRICE
$7.99

or best offer

Vintage Metlox China Poppytrail Red Rooster Handle Bowl Basket Weave
Casey The Cop Poppets by Poppytrail #701 Metlox Police Officer Figurine Pottery

Metlox Poppytrail Red Rooster Divided Serving Dish Vtg California Pottery Retro

Mid-Century 1950 Metlox California Provincial Rooster Grn Coffee Pot Cream Sugar

Metlox/Poppytrail SCULPTURED DAISY, matte: 40 pc. dinnerware set, service for 8

Metlox Poppytrail Indian Summer Large Serving Platter

Metlox Poppytrail Provincial Green Rooster 4pc Place Setting 2 Plates,Cup,Saucer

Metlox Poppytrail Stoneware SCULPTURED GRAPE Gravy Boat Serving Bowl w/Plate

Vintage Metlox Poppy Trail Homestead Creamer Excellent Pottery

Metlox Poppytrail SERVING PLATTER OVAL, Stoneware SCULPTURED GRAPE, large,, NICE

Metlox Poppytrail California Provincial Rooster Green Coffee Pot

Metlox VEGETABLE SERVING BOWL Poppytrail Stoneware SCULPTURED GRAPE NICE l

Set of 4 Vintage VERNON Gaiety by METLOX Dinner PLATES Yellow with DAISIES
HIGH BID
$9.95

BIN: $13.75

Metlox Homestead Provincial Poppytrail Creamer Made in California cow ox field

4 Vintage VERNON Gaiety by METLOX Salad ? 7 3/4" PLATES Yellow with DAISIES
HIGH BID
$6.50

BIN: $8.50

Metlox Poppytrail Red Rooster Coffee Cups Vtg California Pottery Retro

Vintage Metlox Dinnerware Large 14" Serving Platter Poppy Trail Number 677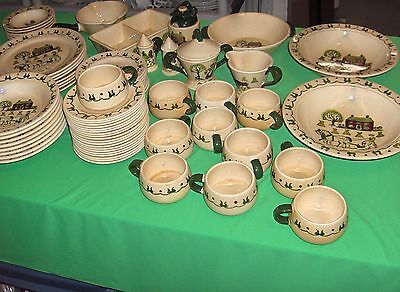 Vintage 62 P Set Metlox Poppytrail China Homestead Provincial Pottery California

8 METLOX CALIFORNIA PROVINCIAL HP ROOSTER 16 OUNCE LARGE GRAND MUGS - MINT - NR

3 Metlox Poppy Trail California Provincial Cup and Saucers Red Green Rooster

Metlox Mugs

TWO 6.5" Saucers / Plates - "Street Scene" Poppytrail by Metlox. Paris?

Metlox Poppytrail Red Rooster Sugar Bowl w Lid & Creamer Vtg California Pottery

8 METLOX CALIFORNIA PROVINCIAL HP ROOSTER 5" LUG SOUP BOWLS - MINT - NR

Huge POTTERY PLATTER Poppy trail 13" by METLOX USA 1950's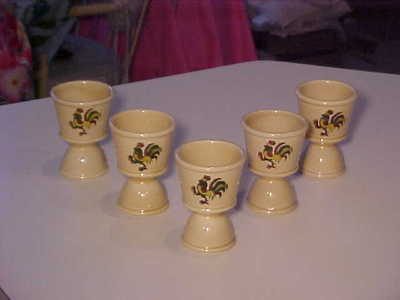 5 METLOX CALIFORNIA PROVINCIAL HP ROOSTER DOUBLE EGG CUPS - MINT - NR

Set of 7 Vintage METLOX Poppytrail CALIFORNIA IVY Bread & Butter PLATES
PRICE
$9.95

or best offer

6 METLOX CALIFORNIA PROVINCIAL HP ROOSTER 3 3/4" COASTERS - MINT - NR

Metlox Poppytrail Moulin Rouge Four 7 3/4" salad plates

6 VINTAGE ARBOR GRAPE POPPYTRAIL BY METLOX SAUCERS BREAD AND BUTTER