Hall's Quality Superior Kitchenware, Red Mixing / Serving Bowl, Made in U.S.A.

Vtg GE Covered Refrigerator Box Hall Oven Ware China Gray Yellow Mid Century

BEAUTIFUL HALL 6 CUP COLBALT & GOLD OVERLAY FLOWERS AIRFLOW TEA POT #0443 USA!!!

Vintage Mustard Yellow Hall Lipton's Tea Teapot Made in USA

Arthur Wood Teapot. Floral Print Gold handle/spout England Excellent 4991

Hall China Hollywood Vintage 1930s Cobalt Blue Gold Gilt Porcelain 6 Cup Teapot

HALL CAMEO ROSE TEAPOT -APPROVED BY MARY DUNBAR! ONLY A LITTLE DAMAGE..

Vintage Halls Superior Jewel Tea Autumn Leaf Large 9" Mixing Bowl
PRICE
$4.95

or best offer
HALL COFFEE POT - EXCELLENT CONDITION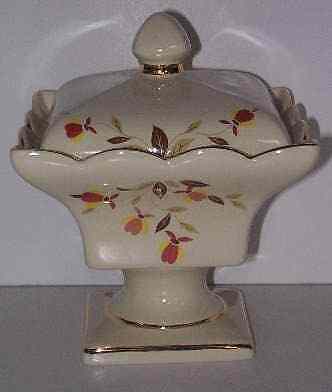 Autumn Leaf Jewel Tea Pedestal Candy Dish - NEW

Hall Rare Juice Pitcher

VINTAGE HALL JEWEL TEA AUTUMN LEAVES set of 4 plates #2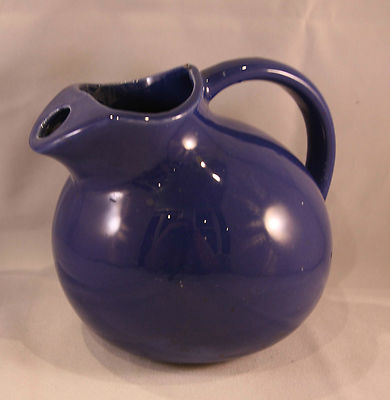 HALL BLUE WATER PITCHER WITH ICE LIP MADE IN USA

VINTAGE LOS ANGELES STYLE COBALT BLUE HALL TEA POT WITH GOLD

Vintage Hall's Superior Quality Red W/White Handles Casserole Bottom

HALLCRAFT HEIRLOOM COVERED DISH / COMPOTE BEAUTIFUL

Vintage Hall Jewel Tea Autumn Leaf Metal Cookie Fruitcake Tin Good Condition

VINTAGE [ HALL TEA POT Windshield Shape Golden Clover Pattern] 1940S

Hall China Orange Poppy Small Oval Casserole RARE
PRICE
$54.95

or best offer

Vintage Hall Pottery Ball Pitcher, Cream Color

BEAUTIFUL HALL'S BLUE BOUQUET PLATINUM TRIM BOWL AND LID KITCHENWARE FLORAL

Vintage Hall 8 Cup Teapot Green with Gold Flowers & Trim with Lid

ANTIQUE HALL CHINA ORANGE POPPY RADIANCE MIXING BOWL-2/TWO QUART-PERFECT

Set of 6 Jewel Tea Autumn Leaf - 8 oz. Tumblers Frosted

Hall Small Teapot with Lid Signed

Hall Autumn Leaf Ball Pitcher with Ice Lip

Hall Jewel Tea Round Casserole/Bowl/Dish- Autumn Leaf Pattern-Superior Dunbar

Vintage Hall China Teapot with Cozy Art Deco Mid Century Modern Bakelite Knob

Vintage Hall China French Blue Gold Fleur-de-lis Teapot W Hang Tag 8 Cup

Vintage Hall's Autumn Leaf Ball Jug/ Pitcher with Ice Lip 4 Pint Jewel Tea

VINTAGE HALL Blue Cobalt - Gold Trim Footed 6 Cup Tea-Coffee Pot USA

JEWEL TEA 1931 Delivery Truck LOCKABLE COIN BANK 1/25 SCALE with Box
HALL STREAMLINE YELLOW W/GOLD TEAPOT MARKED L0339S, X..., UNIQUE COLOR

JEWEL TEA COVERED CASSEROLE DISH,VINTAGE, AUTUMN LEAF PATTERN HALL CHINA

LIPTON TEA CORNFLOWER BLUE SUGAR BOWL WITH LID MADE BY HALL
PRICE
$14.99

or best offer

VINTAGE SALT AND PEPPER SHAKERS..1950's..HALL..BLUE BOUQUET..

Hall China Radiance Casserole Orange Poppy Base Only

MID-CENTURY Eva Zeisel Hallcraft Large PLATTER & GRAVY BOAT WITH LADLE BOUQUET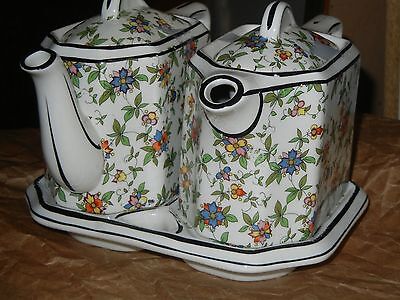 Flowered Ohio Hall Twin-Tee China Tea and Hot Water Pitcher with Under-plate

VINTAGE CREAM AND SUGAR SET..1950's..HALL..BLUE BOUQUET..