LARGE HANDMADE HAND CRAFTED ART GLASS BOWL TURQUOISE NH LEAGUE OF CRAFTSMAN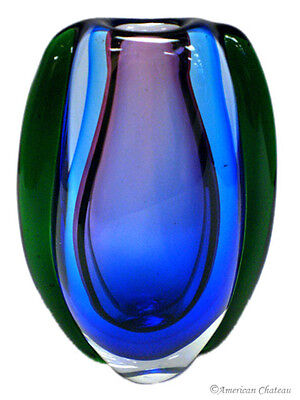 Heavy Murano Art Glass Fused Hand Blown Sculpture Vase

UNIQUE ESTATE SALE FIND MURANO HANDKERCHIEF GLASS 15" H ON SALE SHIPS TODAY NOW!
HIGH BID
$132.50

BIN: $185.50

Unique Murano Crystal Millefiori Art Glass Bowl With Controlled Bubbles

Lot of 4 Fire King Restaurant Ware Berry Bowls

Murano Glass Crystal Fish - Green & Clear 9" Tall Nice

Murano Art Glass Hand Blown Napkin Holder ITALY Sticker

Fire King Gazelle Large Bowl Splash Proof Mixing Bowl 1950's AH Glass Turquoise

(2) RARE FIRE KING WHITE IRIDESCENT PEARL LUSTER KIMBERLY AURORA MUGS..CLEEEEEAN

Italian art glass red/white cased brandy snifter, 7" h.

FIRE-KING JADEITE D-HANDLED COFFEE CUPS MUGS, MID - LATE 1940's, SET OF FOUR (4)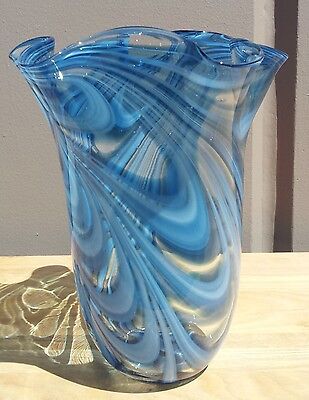 New 11" Hand Blown Glass Murano Art Style Vase Blue Handkerchief Ruffle Fluted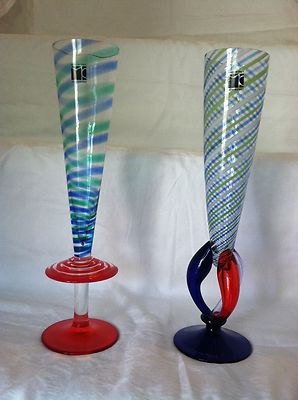 A LOT OF 29 Carlo Moretti Murano Art Glass Champagne Flutes Signed Dated
HIGH BID
$3,050

BIN: $8,500

Rare Fenton Vintage Colbalt Bud Vase Handblown (Bubbles are visable)

Crystal Millefiori Murano Art Glass Bowl - Tiny Bubbles & Millefiori Canes

Murano Glass Multi Color Clown Tennis Player Figurine Stand 3" High

FENTON Cobalt Blue WINTER SCENE Glass Vase Painted by Freduck

Crown Corning Glass Works Torino Black Glass Vase Hand Blown Italy w/Box

fenton four piece epergne rose crest

Vintage Murano Glass Light Blue & White Barbini Bowl

Fenton Glassware Daisy & Button Carnival Glass Bowl

4 Fire King Jadite Cups And Saucers

Art Glass Vase Signed "Glass Design Group" Dated 10 1/2" Tall
PRICE
$59.99

or best offer

fenton peach silver crest shell bowl

fenton crystal crest vase

GLASS ART HandMade POLISH CLEAR GLASS Poland UNIQUE BUBBLES & CRYSTAL CLEAR

Murano D'Arte Ann Primrose Glass Red Millefiori Pillow Vase

Steinbach Crystal Sculpture Art Paperweight Pair of Owls in the Tree

Runner by Glass
HIGH BID
$349.99

BIN: $459.99

Vintage Anchor Hocking Fire King Wheat Set of 25 Dishes Mint Condition

Vintage Renowned Michael Taylor Signed Blown Glass Art Vase Green & Amber

Martha Stewart by Mail BUNNY RABBIT EGG CUP Basket Easter Jadeite Fenton MBM

Vintage Green Carnival Stretch Onionskin Glass Bowl Poschinger Fenton

ART GLASS SNAIL - MURANO? ALFREDO BARBINI?

Vintage Jadeite Jadite Bottoms Up Tumbler / Shot Glass With Coaster

VINTAGE HAND PAINTED SENT MURANO ART GLASS - EMERALD GREEN EWER/PITCHER

Lot 2 Fire King JADEITE RESTAURANT WARE *4 3/4" 10oz BEADED RIM BOWLS*

HAND MADE HEART GLASS EYE STUDIO SEATTLE CHRISTMAS ORNAMENT 1980 ASH ST. HELENS

Purple Amethyst 7" Dia. Murano Art Glass Controlled Bubble Ashtray Bowl Dish

Lot of 4 Fire King Jadeite jadite 5 1/2 in Bead Rimmed Cereal Bowls