Vintage PG pruefer Wood Wind Clarinet USA With Hard Case

Vintage FRANCE Buffet Crampon & Cie A Paris "C" Crown Clarinet Mouthpiece VGC

Early Vintage DeVoe & Glass Silver Bb Soprano Clarinet Philadelphia PA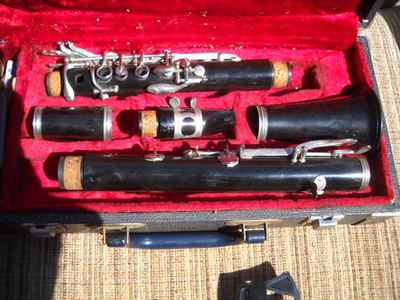 VINTAGE GOLDENTONE FRANCE CLARINET IN A BUNDY CASE

Selmer Signet Special Black Ebony Wood Clarinet Elkhart Indiana Series 9 NR

VINTAGE EVETTE BUFFET CRAMPON CLARINET WITH CASE GERMANY
PRICE
$129.99

or best offer

Vintage Buescher Clarinet and Case / Spare Parts / Unique Lamp Base

Selmer Vintage Centered Tone Bb Clarinet
PRICE
$1,095

or best offer

VINTAGE LEBLANC NORMANDY RESOTONE CLARINET Bb w/ HARD CASE WORLDWIDE SHIPPING

Vintage Bakelite Clarinet w/ Case Made in USA Unknown Maker
PRICE
$29.99

or best offer

Normandy Clarinet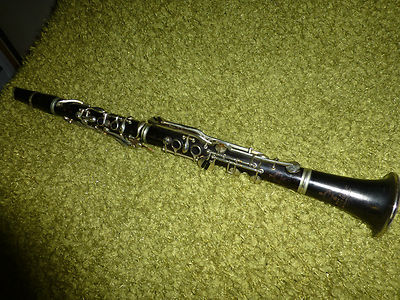 Buffet Crampon Clarinet circa 1912 with wrap-around key

VINTAGE BUFFET CRAMPON CLARINET IN CASE SERIAL #29965

Henri Selmer Paris Vintage Clarinet Bell

Vintage Selmer Paris Centered Tone Bb Wood Clarinet - Restored w/Original Case
PRICE
$1,395

or best offer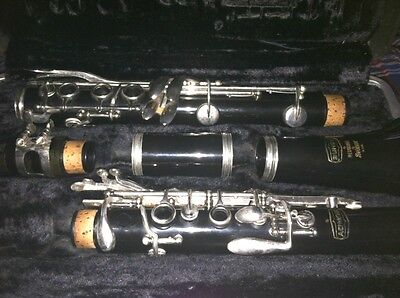 NICE VINTAGE BUNDY CLARINET IN NICE VELOUR LINED BOX CLARINET STUDENT LOOK!

B. C. Cadet Silver Plated Clarinet

Vintage Pedler "PENNANT" GREN O LITE clarinet w/ Case , S.M.L. Paris Mouthpiece

Vintage Bakelite Clarinet w/ Buffet Mouthpiece in Case

VINTAGE PAN AMERICAN CLARINET W/ CASE - BUFFET CRAMPON & CO. PARIS MOUTHPIECE

VINTAGE COLLEGIATE BY HOLTON CLARINET WOODWIND

VINTAGE CLARINET MARKED THE WOODWIND CO NEW YORK IN CASE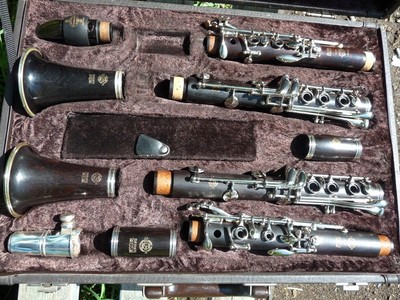 Vintage set of Selmer Paris clarinets Bb + A

VINTAGE CLARINET IN A VERY OLD CASE MAKER IS UNKNOWN TO ME

VINTAGE Rockwell Nappe Music House Clarinet w/Case & 2 Rico Reeds--MORE TO COME

Buffet Crampon '70's R13 Bb Clarinet

Pan- American Div C.G. Conn, LTD USA Vandoren/Peris mouth piece (wood&plastic)

Vintage Airline Pichard Paris France Clarinet

VINTAGE PAN AMERICAN Special Clarinet with Case - Made in USA - 90143

RARE ANTIQUE VINTAGE SILVER METAL BRASS CLARINET WOODWIND INSTRUMENT JAZZ HORN
PRICE
$99.99

or best offer

1800's cavalier 1 pc clairnet silver plated serial number 64073 elkart in. usa

Boosey & Hawkes Wooden Clarinet Model 2-20 Vintage 1965 W/Case Nice-LOOK!

ERNST RIEDL WOOD CLARINET WITH CASE

SIOUR CHAPELAIN Bb Clarinet, Wrap Around Register Key, Antique 1920s!, case+MP
HIGH BID
$39.99

BIN: $54.99

VITO RESO-TONE CLARINET C27410 W/ VITO CASE

Vintage The Urekan Silver Tone Clarinet Serial #96375 w/ Original Case *

VINTAGE CLAIRINET AND CASE

VINTAGE METAL CLARINET BARREL MARKED NP.

Vintage Rene Duval Italian Clarinet 744 Made in Italy

6 OLD CLARINET METAL MOUTHPIECE CAPS