1981 Gibson Professional 335-S Deluxe Electric Guitar with Original Gibson Case!

1960 *Vintage* USA Made Electric Lap Steel Guitar with Original Case Chicago

1964 Fender Mustang vintage guitar Pre- CBS ( jaguar jazzmaster strat family
HIGH BID
$1,325

BIN: $1,750

1970's Woolworth's Audition Starter Electric Guitar Double Cutaway, Korea, Burst
PRICE
$99.99

or best offer

1957 Gibson ES 225 D.......super clean 2 pickup es225 w/HSC (Bad to the Bone!!)

Vintage 1940s OAHU Hawaiian Lap Steel Electric Guitar w/ Case + Accessories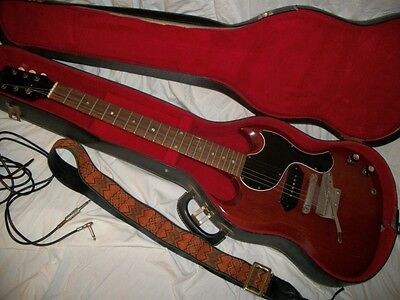 Gibson SG Junior 1964
HIGH BID
$1,800

BIN: $2,500

Gibson 1941 EH-150 Lap Steel Guitar and Amplifier
HIGH BID
$3,000

BIN: $4,000

Vintage 1970's Fender Strat guitar case Pretty nice condition cheap

1971 VENTURA SG COPY V1005 NECK,neck is straight and in good condition JAPAN

ESP Custom Shop Electric Guitar In Orig hard Case Vintage SG Style
PRICE
$2,250

or best offer

Hagstrom HIIB '67 Vintage Short Scale Bass

Vintage Gibson tailpiece

Vintage 1976 Fender Stratocaster Strat Neck w/ Tuners

1979 Fender Stratocaster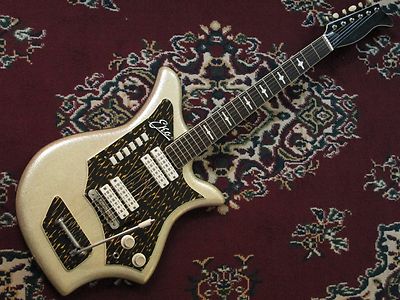 Vintage 1960's EKO 700-4 Electric Guitar Made in Italy
PRICE
$1,295

or best offer

VINTAGE PRE-CBS FENDER MUSTANG TREMOLO TAILPIECE, 1965, VERY CLEAN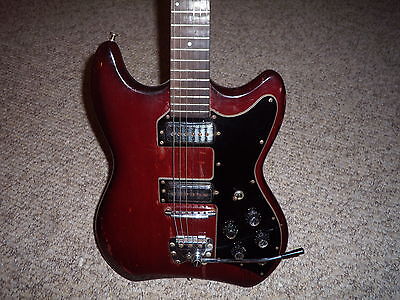 Vintage Guild S-100 Polara electric guitar

Vintage 1955 Gibson Les Paul Junior guitar TV yellow ( once)
PRICE
$2,650

or best offer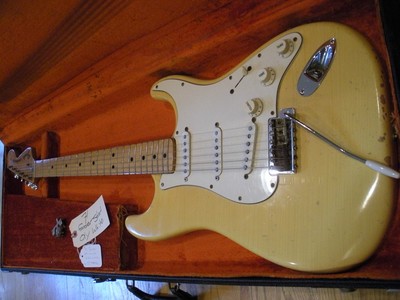 Fender Stratocaster 1971 with Pat Pend bridge single string tree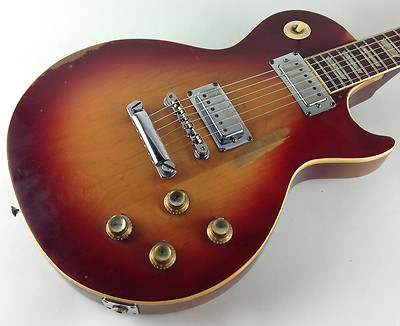 Vintage 1972 Gibson Les Paul Deluxe W/ Bag

GIBSON HARDSHELL GUITAR CASE

GIBSON HARDSHELL GUITAR CASE
1969 Gibson Les Paul Custom, Deluxe, SG, Case

Gibson PAF vintage Les Paul SG tailpiece engraving

1963 Gibson ES-335 Electric Guitar Cherry Red Finish w/Gibson HSC
PRICE
$10,995

or best offer

1954 Decar Stratotone / Rare Guitar... " Fantastic Player "

1977 Greco Les Paul Gotoh Pickups RE-LISTED

★☆★☆ 1961 FENDER JAZZMASTER - SUNBURST - VG VINTAGE ORIG COND OHSC
PRICE
$5,699

or best offer

1960s Silvertone Vintage Electric Guitar

vintage DiMarzio Super 2 Pickup 1979-1981 "K10" 9K!!! /..\

Vintage Gibson 1976 ES 335 TD all orig w/ ORIGINAL CASE + FREE PRO GUITAR SETUP

1956 Les Paul Jr. TV Model - Vintage

Memphis Les Paul Custom Copy Guitar Vintage (set Neck) (Made in Japan) Very rare

Vintage 1965 Gibson Firebird I rare
HIGH BID
$2,450

BIN: $3,200

1966 Fender Stratocaster Vintage Guitar Beautiful Sonic Blue Refin
PRICE
$7,500

or best offer

VINTAGE WIRING HARNESS FOR KAY SPEED DEMON GUITAR

Steampunk custom hand made Unique Desk Table Office Lamp

VINTAGE VOX TEARDROP MARK XII ELECTRIC 12 STRING GUITAR in (UNPLAYED CONDITION)
PRICE
$2,499.95

or best offer

2 Vintage Mosrite Morales P90 Humbucker Style Electric Guitar Pickups Project!