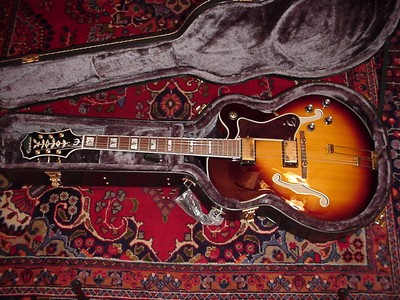 GIBSON EPIPHONE BROADWAY ANTIQUE SUNBURST ELECTRIC GUITAR, EPIPHONE CASE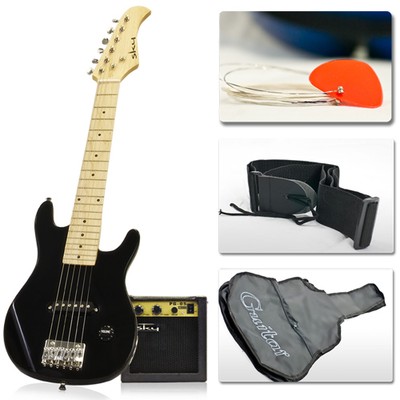 Electric Guitar Kids 30" Black Guitar With Amp + Case + Strap and More New

2004 FENDER AMERICAN DELUXE 50TH ANNIVERSARY STRATOCASTER w CASE STRAT MINT USA
HIGH BID
$1,059

BIN: $1,399
Crescent GREEN/BLACK Electric Guitar+15w AMP+Strap+Cord+Gigbag NEW

Squier Classic Vibe Telecaster 50s Electric Guitar

2004 FENDER AMERICAN DELUXE 50TH STRATOCASTER BODY LOADED pickups bridge STRAT

Full Size Electric Guitar + 10 Watt Amp + Gig Bag Case + Guitar Strap Beginners

G. BURTON Pine Telecaster Black

Homemade dobro resonator guitar with case - vintage antique custom bluegrass

FENDER SQUIER BULLET FAT STRAT STRATOCASTER BLACK HSS ELECTRIC GUITAR ~ NEW

Jackson PC3 Electric Guitar w/ Gig Bag

Fender Pawn Shop Special Excelsior Guitar Tube Amp - 13w 1x15" speaker

Full Size Electric Guitar + 10 Watt Amp + Gig Bag Case + Guitar Strap Beginners

Kraken Octa RF Sea Blue! 8 strings electric guitar!! Promotion auction!!

1992 Greco FA-95-NT Mint Collection Acoustic Full Hollow MIJ (Made In Japan)

Fender Starcaster Strat Pack Set Electric Guitar Amp - NIB IN STOCK

1984 Ibanez AR-100 Cheery Sunburst MIJ (Made In Japan)
HIGH BID
$990

BIN: $1,290

Kraken Octa RF BK Relic w/ HNCM option!! 8 strings guitar! Promotion Auction!!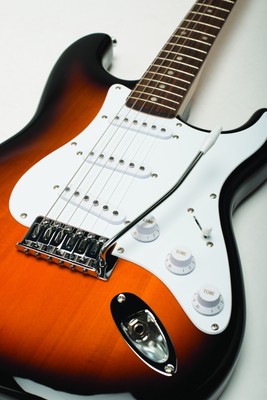 FENDER SQUIER BULLET STRAT BROWN SUNBURST STRATOCASTER ELECTRIC GUITAR ~ NEW

Kraken Flagman Historic F6 Mint Relic! Promotion Auction!! Electric guitar!!

Fender Cyclone Rare Grafitti Yellow Electric Guitar 2005 Jaguar Mustang Toronado

1998 Gibson Black SG Standard Electric Guitar with Original Case USA

Kraken Hero SE ISK #009! Old Stock! Promotion Auction! electric guitar

Fender Tele 1992 Telecaster Guitar MIM Custom Finish Maple Standard Vintage

Yamaha FG-331 Acoustic Guitar

ORVILLE LES PAUL STANDARD 1995 FUJIGEN ALL BLACK BEAUTY! Long Neck Tenon
Crescent REDBURST Electric Guitar+15w AMP+Strap+Cord+Gigbag NEW

2000 EPIPHONE JAPAN LES PAUL CUSTOM Model LPC-80 LONG NECK TENON Black Duncan

The Heritage H-140, 10th Anniversary EXCELLENT CONDITION
HIGH BID
$1,600

BIN: $2,400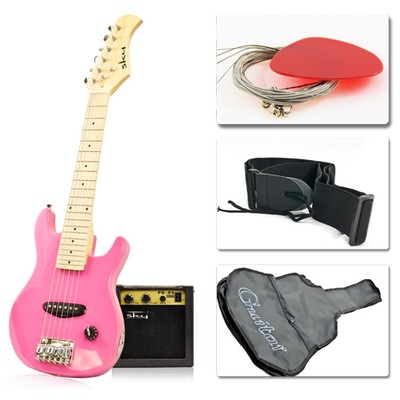 Electric Guitar Kids 30" Pink Guitar With Amp + Case + Strap and More New

Line6 variax 600 in Gator GPE case - PRISTINE - no reserve!!!

epiphone valve jr mercury mod professionally installed - pristine - no reserve!!

Custom hand-built electric guitar (Les Paul + Tele = Lestercaster) hand made

ESP LTD Viper-50 Electric Guitar Black Chrome Hardware With Custom Graphics

2001 USA Jackson KE2
HIGH BID
$1,000

BIN: $1,500

Black Paisley Fender Stratocaster Electric Guitar W/Case **Minty Condition**

Vox Amplug AC30

Gretsch Electric Guitar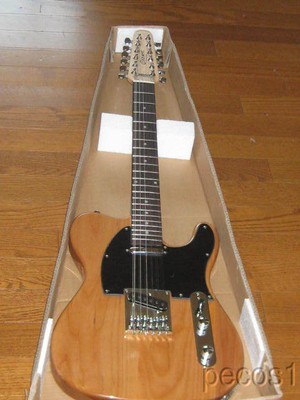 BEAUTIFUL NATURAL NEW 12 STRING TELE STYLE ELECTRIC GUITAR

Jackson DK2 Dinky Pile O Skulls Electric Guitar
HIGH BID
$309.99

BIN: $599.99