Kramer Electric Guitar

Fender Stratocaster Guitar, Made in Mexico , Great Condition w/ Soft Case

Epiphone SG 400 Electric Guitar Cherry Mint Con. Signed by Frank Bello Anthrax

Floyd Rose Special Black Tremolo With Bar Jackson Esp Ibanez Electric Guitar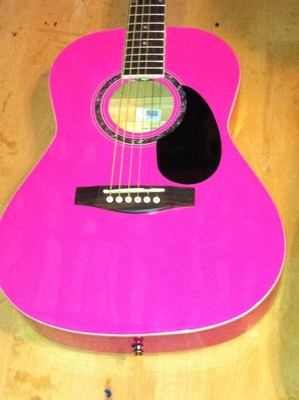 Giannini GS-36 Guitar, Pink, Youth Size

FIRST ACT ELECTRIC GUITAR/FIRST ACT OVERTONE 6 STRING ELECTRIC GUITAR/NICE

Fender American Standard Stratocaster Electric Guitar ard Hard Case

esp ltd m-100fm

VINTAGE 1969 Gibson Les Paul Custom Black Beauty 1969 "MOJO" TONE MONSTER!
HIGH BID
$4,500

BIN: $5,850

Full Size Electric Guitar + 10 Watt Amp + Gig Bag Case + Guitar Strap Beginners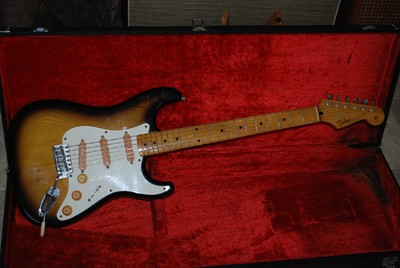 1978 early years Tokai ST80-60 Springy sound Japan made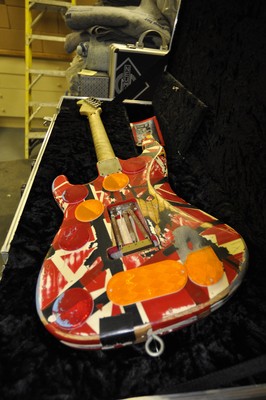 EVH Eddie Van Halen Frankenstein Replica Guitar Only 300 made! Collectors Ed.

VINTAGE 1967 GRETSCH VIKING ELECTRIC DOUBLE CUT AWAY GUITAR WITH ORIGINAL CASE
PRICE
$1,800

or best offer

Epiphone Dot Semi-Hollowbody Electric Guitar Cherry w/ Hardshell Case!
HIGH BID
$274.99

BIN: $369.99

JACKSON FRS JS32R KING V LIMITED EDITION Seymour Duncan HSC

PRS Custom 24 Electric Guitar with Hard Case 10 Top Excellent Condition
PRICE
$2,200

or best offer

NEW BRAND Electric Guitar With Engraved Aluminum Top

60s K. Suzuki W-150 Dreadnought acoustic guitar Brazilian Back sides Solid top!

1979 Vintage Fender Stratocaster Electric Guitar - Made in USA - With Hard Case
PRICE
$1,500

or best offer

Guild 1968 X-500 with Bigsby Tailpiece

Bacon Symphonie Silver Bell Banjo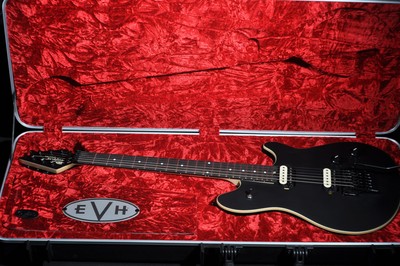 EVH WOLFGANG SPECIAL STEALTH GUITAR W/FLOYD ROSE D-TUNA ** BRAND NEW **

Marshall 3005 Lead 12 White Mini Stack

Epiphone Les Paul Electric Guitar, Black (Ebony)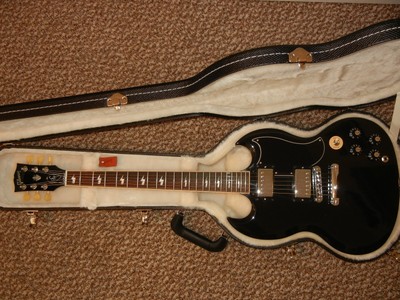 GIBSON SG ANGUS YOUNG ELECTRIC GUITAR BLACK

Paul Reed Smith Mira Electric Guitar-Moon Inlays,Double Cut,Wide to Thin Neck
HIGH BID
$999

BIN: $1,599

Epiphone Limited Edition Casino Hollowbody Electric Guitar Metallic Gold

Gibson Limited Run SG Carved Top-Ocean Blue Burst Electric Guitar #27

Fender Stratocaster Left-Hand MODIFIED (Mexican)

Fender Standard Stratocaster Electric Guitar Maple Lake Placid Blue Strat Extras

Gibson Custom Shop Midtown Custom with Hardcase and COA! Pristine condition!

FIRST ACT GUITAR PARTS & HARDWARE, USED

Fender American Standard Telecaster Electric Guitar Natural 2013- Mint Condition

G&L USA Legacy Fullerton Red Almost NOS Right hand NR

1985 Kramer Pacer Carrera Neck

Squier Classic Vibe Stratocaster '50s Electric Guitar

Gibson Les Paul Custom Custom Shop Class 5
HIGH BID
$2,400

BIN: $3,300

Very Rare Spector G-1 Electric Guitar - 1975

Full Size Electric Guitar + 10 Watt Amp + Gig Bag Case + Guitar Strap Beginners

Epiphone 22Watt Guitar Amp.