VINTAGE GOLD LAUREL BURCH "TOSHIO" CLOISONNE ENAMEL PIERCED EARRINGS

Vintage Costume Jewelry Lot*950 Italian*Cloisonné*Silver Bead*M. of Pearl*More

VINTAGE STERLING SILVER DIAMOND RHINESTONES DOTTED HINGED BANGLE BRACELET 925

Vintage Art Deco Style Pair of Ladies Brooch Pins with Rhinestones

VINTAGE SILVER ART DECO RHINESTONES BRACELET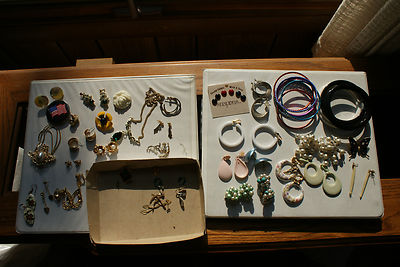 Old Vintage Lot of Mixed Jewelry Earrings Clip On & Pierced Bangle Bracelets Pin
PRICE
$19.99

or best offer

VINTAGE LOT CAMEOS SCARF CLIP PENDANTS

VINTAGE KREMENTZ 14K G OVERLAY PEN & INK ETCHED PENDANT NECKLACE

Vintage Contemporary Modern Jewelry Lot Butterfly themed craft & useable

0167 - Approx 7" Silver Toned with Pearl Bead Bracelet

VINTAGE LOT OF BRASS SILVER COPPERTONE LETTER OPENERS

Junk Craft Jewelry Lot earrings all paired but basically filler flea market type

Vintage Milkglass Necklace, Belt, etc..., please see more...GORGEOUS!!
HIGH BID
$39.99

BIN: $69.99

0222 set silver toned Earrings Bracelet Necklace Links

Lot of 'PEARL' costume jewelry bracelets, earrings and necklaces
HIGH BID
$9.99

BIN: $19.99

LOT OF 26 pcs ~ COSTUME JEWELRY ~ NECKLACES, EARRINGS AND MORE

VINTAGE SILVER OWL WITH DANGLING BLUE RHINESTONES EYES PENDANT NECKLACE

6 PIECE LOT OF BROOCHES--COSTUME JEWELRY-AJ-GIOVANNI

Vintage Contemporary Modern Trendy Jewelry Lot Longaberger MBA pin & old plastic

VINTAGE STERLING BANGLE BRACELET WITH SAFETY CHAIN 925

Vintage Jewelry Lot

6 PIECE LOT OF BROOCHES--COSTUME JEWELRY-KRAMER-JAPAN

VINTAGE SILVER ENAMEL & RHINESTONES PURSE LOCKET PENDANT NECKLACE SIGNED

VINTAGE SILVER JOINTED DANGLING OWL PIERCED EARRINGS

VINTAGE MONET GOLDTONE METAL BEADED NECKLACE

VINTAGE FACETED CUT CRYSTALS GRADUATED BEADED NECKLACE 24" long

LADIES VINTAGE HEAVY COPPER LINK BELT, 29 1/2" LONG, OVER 1/2 LB

VINTAGE MEXICAN SILVER HORSE PONY BROOCH PIN MEXICO

Mostly Modern Trendy Costume Jewelry Lot Pretty rhinestones bracelets etc.

Mixed Lot of Gold tone Locket, Clip Earrings, Pin Backs, Watch, Bracelet - Nice
PRICE
$18.95

or best offer

VINTAGE WIDE BRASS DIAGONAL MOP INLAY BANGLE BRACELET

VINTAGE WOODEN PAINTED TROUT FISH BROOCH PIN

55 Grams Sterling Silver Lot, SCRAP Jewelry Lot,Class Ring,Tie Tacs, Charms,etc.

0123 - Approx 30" Gold Toned Four-Strand Gold Chain Necklace

HUGE LOT OF Vintage Shell/BEADED NECKLACES/Chokers

Lot of Mixed Jewelry

VINTAGE GOLD BEZEL WHITE CABOCHONS LINKED NECKLACE

Vintage Gold-filled Hair Pin With Chain for Pince-nex Glasses

Lot of Religious Jewelry

Seven Vintage Costume Jewelry Gold Tone Pieces - Lot Wearable