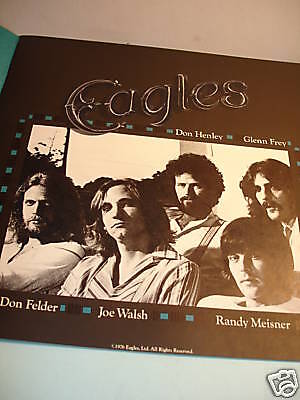 EAGLES Tour Book 1976 JOE WALSH Concert Program VGC 11"
PRICE
$5.88

or best offer

GLENN FREY EAGLES SINGER SONGWRITER SCARCE 2013 MAUI HAWAII CONCERT POSTER!!!

Eagles T Shirt sz Large Men's Vintage Millennium Concert 1999 Frey Henley

EAGLES-RARE VINTAGE-LONG RUN TOUR 1979 - HOCKEY JERSEY EFC PRESENTS@SPECTRUM

Joe Walsh 2008 Eagles Tour Pick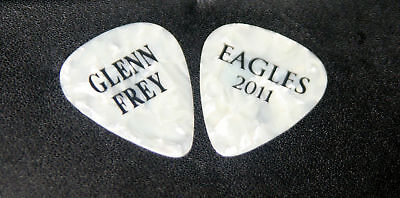 The Eagles Guitar Pick from Glenn Frey 2011 tour

Joe Walsh 2007 JWB Tour Pick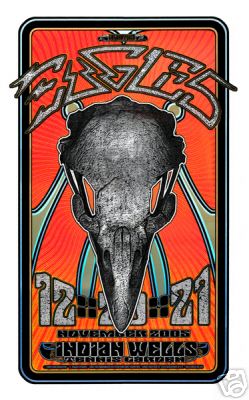 Eagles Poster Indian Wells Firehouse Sperry Original
PRICE
$49.99

or best offer

James Gang Baseball Jersey (James Gang / Joe Walsh)

EAGLES backstage pass Tour Laminate ALL ACCESS

The EAGLES L.A. Long Run 3/4/1980 Real 2 CD Set Digi New

JOE WALSH GUITAR SOLO PICK & UNPEELED PASS AWAY FROM THE EAGLES AVERAGE TOUR

GLEN FREY No Fun Aloud PROMO PLASTIC PIN Asylum Records Eagles 80'S W/BONUS GIFT

EAGLES MARCH 23, 2013 MGM VEGAS GRAND GARDEN M LIFE LINE PASS--COLLECTIBLE!

THE EAGLES ROCK BAND POSTER 23"x34"

EAGLES MARCH 23, 2013 MGM VEGAS GRAND GARDEN TICKET--NICE COLLECTIBLE ITEM!

THE EAGLES 1979 70S CONCERT POSTER don henley joe walsh Pittsburgh Pa. Long Run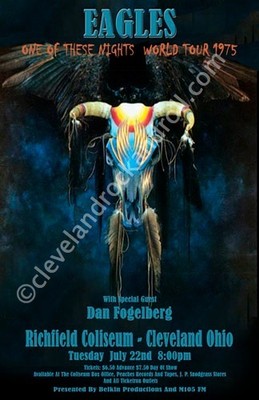 Eagles 1975 Cleveland Concert Poster

The Young Rascals "Collections" 1967 Original Songbook

EAGLES The Long Run Tour 79 Framed picture and backstage pass

EAGLES-RARE VINTAGE-LONG RUN TOUR-B.B.JERSEY-ELECTRIC FACTORY CONCERTS PRESENTS
PRICE
$49.95

or best offer

Eagles tshirt

UNWORN 2010 EAGLES SUMMER TOUR T SHIRT SIZE XL W/ KEITH URBAN & THE DIXIE CHICKS
The Eagles Band Hotel California license plate

EAGLES BACKSTAGE PASS TOUR LAMINATE ALL ACCESS

USED1991 Don Henley EAGLES Solo Tour md lg T shirt

Eagles Tshirt

THE EAGLES - 2009 LONG ROAD OUT OF EDEN TOUR t shirt - NO REPRO - (S)

ORIG EAGLES 70's Frank Zappa Seattle concert poster RARE!!!!!!

DON HENLEY! DH LOGO BLUE ZIP SWEATSHIRT MED NEW EAGLES

THE EAGLES LONG ROAD OUT OF EDEN CONCERT TOUR * LOCAL CREW * TEE T SHIRT Sz XL

EAGLES-TIMOTHY B SCHMIT 2003 TOUR GUITAR PICK-RARE

CHEAP TRICK In Concert Multi-Page Program/ TOUR BOOK 1979 Power Pop Collectible

Eagles 1994 Hell Freezes Over T-shirt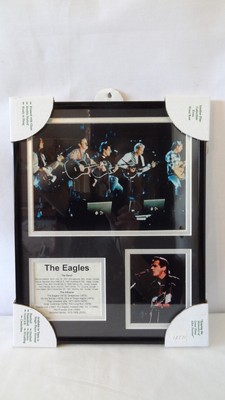 The Eagles Front Row Collectible Picture and Frame MIB #F263.
PRICE
$49.99

or best offer

Eagles Farewell 1 2004 Tour Shirt (Joe Walsh/Don Henley/Glenn Frey/TBS)

RARE EAGLES DVD = Live Don Kirshner's 1974 Linda Ronstadt +BBC 1973 early flight

Joe Walsh Graphic Tee (Joe Walsh/Analog Man/Eagles/James Gang)

THE EAGLES ORIGINAL RARE 1976 PRINT CONCERT TOUR BOOK program joe walsh G14e

Modern Drummer Magazine w/ Don Henley interview