VINTAGE MATTEL THE SUNSHINE FUN FAMILY DOLLS NO. 2321 IOB MISSING STORYBOOK 1977

VINTAGE 1970'S THE SUNSHINE FAMILY BABY'S ROOM PLUS 7 DOLLS AND BOX
HIGH BID
$24.99

BIN: $34.99

Vintage The Sunshine Family Steve Stephie Sweets Mattel 1973 Sealed MIB

The Sunshine Family DRESS-UP KIT MIP

Vintage Mattel 1973 Sunshine Family LOT Baby Sweets dolls Steph Steve

The Sunshine Family DRESS-UP KIT MIP

Vintage Sunshine Family Doll Lot Steve Dad Stephie Mom Sweets Babies 1973 Mattel

The Sunshine Family DRESS-UP KIT MIP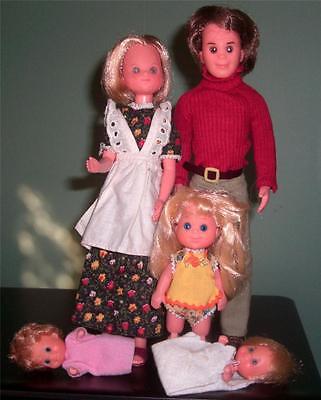 Vintage SUNSHINE FAMILY DOLLS - Steve Stephie Sweets Big Sister Baby Sweets 1973

Mattel Sunshine Family Doll 1970's Stephanie with New Handmade Dress & Apron

Sunshine Family 1974 Mattel dolls craft shop 20+ accessories lot playset toy vtg

Mattel Sunshine Family Doll 1970's Little Big Sister Sweets

Mattel 1975 #9055 Sears Surrey Cycle w/Dolls Family Accessories Sunshine Family
PRICE
$59.99

or best offer

Vintage 1975 Mattel Sunshine Family Grandma and Grandpa-Grandparents-No Reserve

Vintage Sunshine Family Stephanie-Mom & Steve-Dad with Original Clothes '1973'

Vintage 1970s Mattel Sunshine Family - Steve, Stephie, Grandma, Grandpa, Baby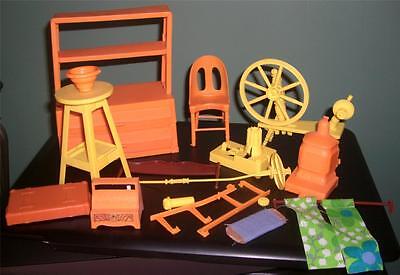 Vintage SUNSHINE FAMILY DOLLS - Craft Store Accessories - MISC PIECES / PARTS

Mattel Sunshine Family Doll 1970's Baby Sweets & Cradle

Vintage Sunshine Family dolls Steve And Stephie

Vintage 1973 Sunshine Family Grandparents Dolls by Mattel

AA Sunshine Happy Family Dolls in Original Box Hal Hattie + Hon #7279 1974 NRFB

The Sunshine Family-Mattel-Doll farm set Original Box with extras- another set

Vintage 1973 Sunshine Family Dolls by Mattel

6 Mattel Sunshine Family Dolls Baby Sweets Grandma Cradle
PRICE
$19.99

or best offer

VINTAGE SUNSHINE FAMILY CRAFT STORE MATTEL PARTS PIECES DOLLS ACCESSORIES

Vintage Sunshine Family Star Spangled Dolls Pioneer Daughter Mattel 1974 NEW

Vintage Mattel The Sunshine Family Doll Farm Set Original Box in Great Condition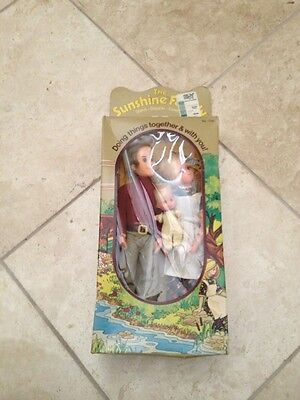 THE SUNSHINE FAMILY New In Box STEVE STEPHIE SWEETS MATTEL DOLLS 1973 #7739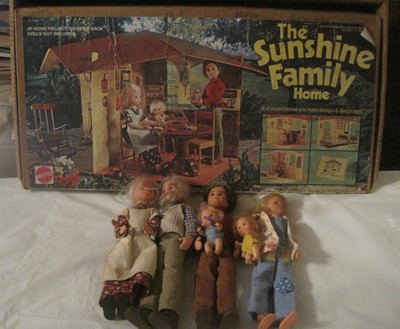 1973 Mattel 6 Sunshine Family Dolls + Home in Orignal Box

Vintage 1970's Original Sunshine Family Dolls with Idea Book & Partial Box!
PRICE
$29.95

or best offer

Vintage Sunshine Family Doll & Craft Case Mattel 1976

Vintage SUNSHINE FAMILY DOLLS Barn Home Structures - MISC PIECES PARTS

VINTAGE BABY SUNSHINE, 1973, The Sunshine Family, Blues Eyes, Original Onesie

Vintage Sunshine Family Star Spangled Dolls Jazz Performers Mattel 1974 NIB

Mattel Sunshine Family Doll 1970's Steve

Mattel Sunshine Family Baby SWEETS PINK PAJAMAS 1973 VERY CLEAN
PRICE
$13.99

or best offer

Vintage 1973 SUNSHINE FAMILY HOME w/ BOX, FURNITURE, BABY both BOOKS! VGC!

THe sunshine Family Grandpa and Mom

VINTAGE 1973 STEFFIE DOLL MOM DOLL in ORIGINAL DRESS SUNSHINE FAMILY

Vintage SUNSHINE FAMILY DOLLS - Piggy Back Shack