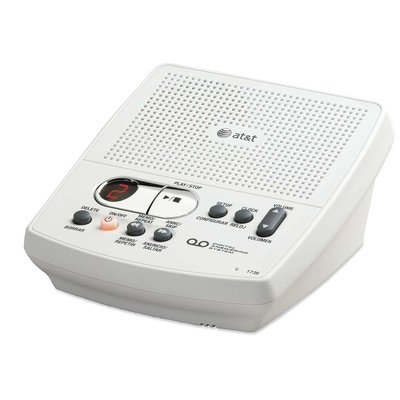 AT&T 1739 Answering Machine With AC Power Adapter Each One Tested 113

AT&T Digital Answering System #1343 with power cord & user's manual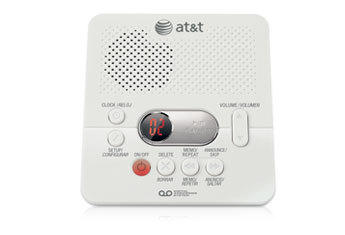 AT&T 1740 Digital Answering System #:12913591

AT&T 1738 Digital Answering Machine System with Time Day Stamp

AT&T 1740 Digital Answering Machine Works With Any Telephone Retail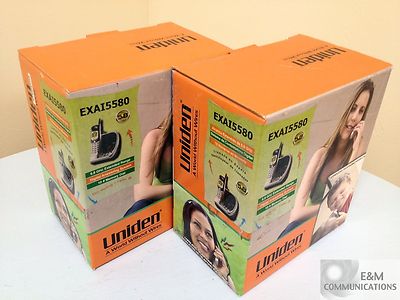 8907636194 UNIDEN EXAI5580 5.8GHZ CORDLESS PHONE DIGITAL ANSWERING BOGO FREE NEW

Bang & Olufsen BeoTalk 1200

AT&T ATT1739 Digital Answering System

GE Digital Messaging System Answering Machine General Electric Phone 29878GE1-B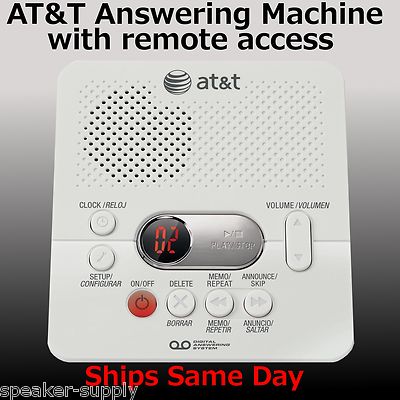 AT&T ATT1740 Digital Answering Machine System 60 Minutes Remote Access Telephone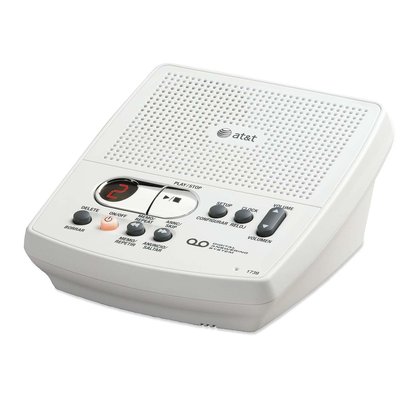 AT&T 1739 Corded Digital Answering System, White

AT&T DIGITAL ANSWERING MACHINE... BRAND NEW UNOPENED!!!!!!!!!!!!!!!!!!!!!!!!!!!!

CODE-A-PHONE MODEL 5530 ANALOGUE ANSWERING MACHINE WITH 2 TAPES CODE A PHONE

AT&T Answering System 1750 3 Mailboxes Digital Power & Phone Cords Owner Manual

AT&T DIGITAL ANSWERING SYSTEM 1740

AT&T Tapeless Digital Answering Machine Model AS40 NIB

Vextra Digital Answering System, Remote Control Operation, Voice Menu, 62800-1

AT&T 1740 DIGITAL ANSWERING MACHINE - WHITE - NEW OPEN BOX

RECORD-A-CALL ANSWERING TELEPHONE RECORDING MACHINE Model 700

AT&T Telephone Answering Machine System Model #1305
PRICE
$8.99

or best offer

AT&T Digital Answering System Model 1738 New in Box

Answering machine at&t with cords black model 1726 4x7"

AT&T ATT Model 1719 Digital Answering Machine

NEW!! 8907636194 UNIDEN EXAI5580 5.8GHZ CORDLESS PHONE DIGITAL ANSWERING SYSTEM

PANASONIC KX-T1450 EASA-PHONE TELEPHONE ANSWERING MACHINE DUAL STANDARD CASSETTE

Panasonic KX-TM85B Digital Answering Machine System - Brand New!

Digital Answering Machine
AT&T Digital Answering System Model 1738 New in Box

AT&T Digital Answering System Model 1738 New in Box

sony tam-100 digital answering machine, new in box, 3 different message box

PhoneMate Telephone Answering Machine System Model 9300

GE 29861GE2 Digital Answering Machine
HIGH BID
$0.99

BIN: $10.99

Panasonic KX-TM150B Digital Answering System with Caller ID

Panasonic KX T5100 EasaPhone telephone Answering Machine dual cassette Capacity
PRICE
$69.99

or best offer

AT&T Digital Answering System Model 1738

AT&T 1739 Digital Answering Machine (No Power Supply)

GE DIGITAL MESSAGING SYSTEM 29875GE2 ENGLISH / SPANISH
HIGH BID
$9.99

BIN: $12.99

AT&T 1739 Digital Answering System with Caller ID Announce

ClearSounds ANS3000 Digital Amplified Answering Machine with Slow Speech NEW
AT&T ATT1739 Digital Answering System