vintage Panasonic AM transistor radio model R-1158, working/GOOD SOUND

Retro Pocket Transistor Radio Studebaker AM/FM Used Working Condition

windsor solid state radio Hong Kong

VINTAGE REALISTIC AM-FM TRANSISTOR RADIO,TESTED

Vintage 1950s Raytheon Display Box with Ten CK722 Transistors Radio Parts

Vintage Motorola AM/FM Solid State Radio Wood Case Cloth Front- 1960's Era Works

Gold Owl Transistor AM Radio Made in Japan 1960's

Space Shuttle AM Radio

Marlboro Big Sky Lantern Radio

Classic Collectors Edition Radio Model 9720 AM/FM works as intended, exc. +
HIGH BID
$9.99

BIN: $19.99

Transistor radio - Bang & Olufsen Beolit 1000

Vintage SANYO Model No. RP 1350 AM Pocket Transistor Radio ~ WORKS ~

Hitachi Solid State Transistor Radio AC/Battery Vintage Model KH951

Donald Duck Transistor Radio
Huckleberry Hound Transistor AM Radio

PEERLESS 14 TRANSISTOR RADIO

Vintage Magnavox Transistor Radio AM with earphone
PRICE
$14.99

or best offer

VINTAGE OLYMPIC 666 TRANSISTOR COLLECTABLE SEA FOAM LIME GREEN RADIO

Vintage 1970 GE Coca Cola can transistor radio AM * tested works * original box

Vintage German Transistor Radio German Telefunken Partner IIK Working Condition

1960S 70S 1917 MODEL T FORD NOVELTY AM TRANSISTOR RADIO WORKS GREAT

HOWARD YT-161 Transistor Radio - WORKS, EXCELLENT SHAPE IN BOX
PRICE
$129.95

or best offer

BEAUTIFUL INLAYED JAPANESE RADIO 1940'S - 50'S

Groovy Clear Plastic Transistor Radio Nissho Electronics Made in Japan

VINTAGE 1960's NATIONAL PANASONIC T-81 FM AM (BC) 8 TRANSISTOR HANDHELD RADIO

SONY ICR-S6 PORTABLE IC SOLID-STATE, SENSITIVE AM BAND POCKET TRANSISTOR RADIO

Vintage 1960S 1970S GE General Electric P-975D AM FM TRANSISTOR RADIO - Works!

GE Cathedral Style Radio AM/FM, Model 7-4100JA - 1932 Replica - Ex Condition

Precor Solid State "Micro" Deluxe Pocket AM Radio Model 550 with box&instruction

Zenith Royal 3000-1 Trans oceanic Multiband Radio

TOSHIBA RP-S5 FM NOVELTY TRANSISTOR RADIO

Vintage Hy-Line Transistor Radio with Plastic Case
PRICE
$12.99

or best offer

Vintage Power Rangers FM Transistor Radio

VINTAGE ER-86 POCKET RADIO MADE IN JAPAN COMES IN ORIGINAL BOX

Vintage GE 3-5240 radio cassette player w/box

VINTAGE JAPAN ! NRC 6TP-107 POCKET TRANSISTOR RADIO ! LOVELY ! WORKS !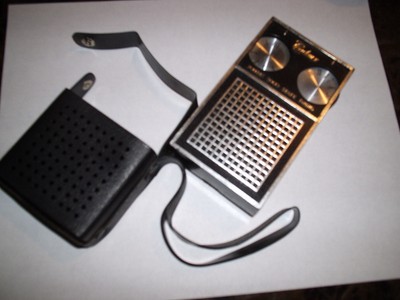 Vintage Cadaux Transistor am radio with cover, handheld ,WORKS Great

Vintage Franklin Harp Figural Transistor AM Radio

Regency TR 11 Ebony Pocket 4 Transistor Radio
HIGH BID
$89.95

BIN: $209.95

VINTAGE EMERSON GRAY VANGUARD 888 TRANSISTOR RADIO W/ORIGINAL CASE NO RESERVE