1940 ERA--HOME OF JULES PETREQUIN--STE GENEVIEVE MO

RPPC WARSAW MISSOURI OSAGE RIVER SCENE REAL PHOTO POSTCARD ANTIQUE VINTAGE POST
PRICE
$24.99

or best offer

4 Card Lot, St. Louis, Missouri, Night View, High School, Medical!!

Moberly, MO Missouri Community Memorial Hospital vintage chrome postcard pc

Kansas City, Mo/ typical home/ large house/stone wall/old postcard/1906

5 Different Rare Early 100 to 101 year Old St.Louis,MO. Postcards-(Read Ad)

Vintage Old Covered Bride Flat Creek Sedalia Missouri MO Postcard Unused

Branson MO Missouri ~ Roark Motor Lodge Postcard

Hannibal MO Missouri Admiral Coontz Armory Postcard

Greetings - St Louis MO - Large Letter Linen Postcard
Mt Vernon MO Missouri "Bel-Aire Motel" Postcard

ST JAMES MISSOURI - GREETINGS FROM - VIEW OF HAY WAGON & FIELD - 1925 - PRETTY !

Academy Of The Sacred Heart St. Joseph MO Double-wide Postcard missouri
PRICE
$49.95

or best offer
Vintage old Kansas City Missouri Priest of Pallas photo of float KC

Complete set of (15) 1907 Priest of Pallas post card Kansas City Missouri Parade

Vintage Postcard Rayl Cafeteria Missouri Schools of Mines & Metallurgy Rolla MO

VINTAGE RPPC MASONIC TEMPLE LOUISIANA MISSOURI 113-A BLACK & WHITE

Chrome PPC - Firing Range - Fort Leonard Wood, Missouri

Blue Springs, Missouri Real Photo Postcard "Central Ozarks, MO" Bridge View RPPC

LOUISIANA PURCHASE EXPOSITION ST LOUIS 1904 4 VIEWS

10362 RPPC Florida, Missouri MO Statue Bust of Mark Twain Samuel Clemens c1916

RPPC WARSAW MISSOURI SOUTH FROM HIGH SCHOOL REAL PHOTO POSTCARD VINTAGE ANTIQUE
PRICE
$29.99

or best offer

Kansas City Skyline From Airport - Missouri - Vintage Postcard

SWOPE PARK KANSAS CITY MISSOURI VINTAGE LINEN POSTCARD

Eads Bridge St Louis Mo postcard

Library, Hannibal, Missouri vintage postcard Used

MISSOURI POSTCARD: MILITARY AMBULANCE AT THE ADMIN BLDG, STATION HOSPITAL, FORT

Municipal Opera, Saint Louis, Missouri vintage postcard Used

Van Buren, MO - Big Spring

St. Joseph MO Water Co. Pumping Station Postcard missouri
PRICE
$4.95

or best offer

Kansas City, Missouri MO ~ Downtown Glimpse REAL PHOTO ^
RPPC-ALLENDALE CLUB HOUSE-CAFE-RESORT-CABINS, BRASON, MO 1930-40's

MISSOURI POSTCARD: 1907 VIEW OF ST MARYS ACADEMY, INDEPENDENCE, MISSOURI

RPPC-ALLENDALE RESORT-CABIN #15, BRASON, MO 1930-40's

RPPC-ALLENDALE RESORT-CABINS #10 & 14, BRASON, MO 1930-40's

☆ GRANDFATHER'S MANSION SILVER DOLLAR CITY MISSOURI MO Old Vintage Postcard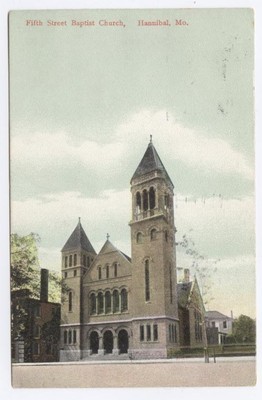 Fifth Street Baptist Church, Hannibal, MO, c. 1915, Missouri

Photo Postcard ~ THE SWELLEST POST CARD STORE IN ST. LOUIS ~ Vtg. Store Front

Postcard view of downtown Kansas City Missouri from the air
PRICE
$7.75

or best offer

Steamer Admiral, St. Louis, Missouri