1940s RPPC ~ Indian Trading Post ~ Route 66 ~ Tijeras Canyon New Mexico

Map Greetings From Vermont Multi-Views and Roads 1962 Vintage Postcard VT

Vintage Postcard PACIFIC SEACOAST HIGHWAY US ROUTE 101 OR / WA / CA Postmrk 1954

Shamrock Court U.S. Highway Route 66 Sullivan, Missouri

Antique Postcard WINTER TIME AT ICE ROCK ON BLUE RIDGE PARKWAY Old Car UNUSED

Vintage Postcard AUTUMN ROAD SCENE Linen 1947 Unused Curteich - Mountains & road

Vintage Souvenir Folder Skyline Drive Shenandoah Valley Va. 18 Pictures

Aerial View General Pulaski Skyway JERSEY CITY NEW JERSEY Postcard RPPC??

Lot 2 Toll Road Photo Postcards Toll Gate Cumberland Road National Hwy qw7554

K1628 SAN BERN ARDINO, CA. POSTCARD, MOTEL, ROUTE 66

GREETINGS FROM FINGER LAKES - NEW YORK vintage POSTCARD - NEVER USED

Schuylkill Expressway Philadelphia 1967 Post Card
HIGH BID
$0.99

BIN: $4.99

Vintage Postcard A SCENIC HIGHWAY - LINEN 1930's Unused Excellent condition

Scenic Highway and Bridge looking to Sagamore Cape Cod Massachusetts Postcard

011713A Vintage Route 66 Postcard We Got Our Kicks on Route 66

Southern California ~ ROMANTIC HIGHWAYS ~ MAP Linen Postcard

Old Postcard Bridge on Pennsyvania's Turnpike Bedford Narrows Linen 1 Stamp

Map Greetings From Kentucky Blue Grass State 1950s Vintage Postcard KY Horse

Viaduct Multnomah Falls Columbia River Highway Oregon Ship Ferry Postcard 002

Collector Plate NUESTRA SENORA DE SAN JUAN

1957 HOLLYWOOD FREEWAY CALIFORNIA postcard SUPER 50s CARS

Linen Postcard, Overseas Highway US-1, Pigeon Key Florida, 1941, Fishing Camp

Motor Inn Courts On U.S. Route 66 Elk City, Oklahoma Approved By AAA.

Vintage Postcard PENNSYLVANIA TURNPIKE ENTRANCE TO BLUE MT. TUNNEL unused

US Postcard, Whiteface Mountain Memorial Highway, Adirondacks, Unpaved

Vintage Postcard PENNSYLVANIA TURNPIKE HIGHWAY ALLEGHENY TUNNEL New Stanton 1965

Antique Postcard THE SWITCHBACKS PIKES PEAK AUTO HIGHWAY COLORADO Early Linen

1915 VINTAGE COLORED POSTCARD MAIN STREET 3RD MIDDLETOWN OHIO GABE & DRUGS SIGN

Antique Postcard STATE ROAD NEAR AUSABLE CHASM PLATTSBURGH NEW YORK 1910's NY

Vintage Postcard US HWY 40 HUMBOLT RIVER - ELKO / WINNEMUCCA NEVADA postmrk 1957

1910 VINTAGE COLORED POSTCARD MAIN STREET SORG OPERA HOUSE MIDDLETOWN OHIO

1966 vintage postcard Glass House Will Rogers Turnpike Vinita Oklahoma Indian

1910 VINTAGE COLORED POSTCARD MAIN LIEBEE RESIDENCE MIDDLETOWN OHIO S L & CO

Poem Out Where the West Begins Cactus Road 1940s Linen Vintage Postcard Poetry

Antique Postcard POEM BLUE SHRINE - BLUE RIDGE MOUNTAINS Ruby Altizer Roberts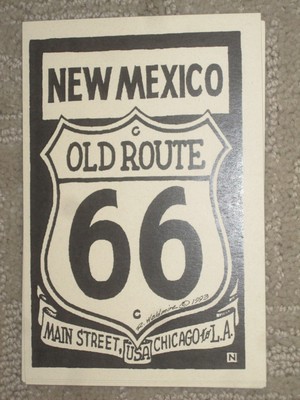 New Mexico state shield by the Late Bob Waldmire Artist Route 66 Post card,Quik

Vintage Postcard SOUTHERN CALIFORNIA ROMANTIC HIGHWAYS Unused Linen 1941

Blue Ridge Parkway, Virginia .Vintage Postcard

Lot of 2 Oversized Postcards of the Kansas Turnpike
HIGH BID
$2.99

BIN: $9.99

61237 LINEN POSTCARD WITH BEAUTIFUL FLOWER AND TREE LINED STREET AMERICAN SOUTH