BELGIUM BELGIAN VETERAN ORDER MEDAL CROSS BADGE FULL SIZE WWI WWII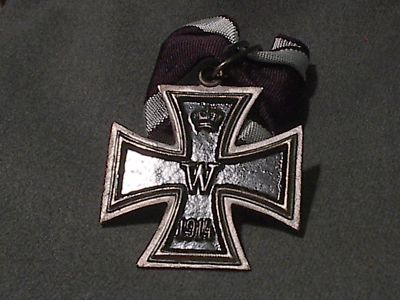 GERMAN GRAND CROSS OF THE IRON CROSS 1914 & RIBBON

ORIGINAL german medal Iron Cross from WAR 1914/18 and BIG Studio Portrait photo

WWI Prussian War Merit Cross - Fur Kriegs Hilfsdienst

ANHALT. Friedrich Cross (Friedrich-Kreuz), 1914-1918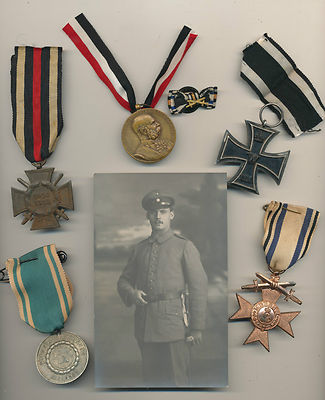 ORIGINAL german 5 medal group a ribbonbar and a photo soldier from War 1914/18

Germany WW1 Medal Iron Cross 1C EK1 Maker KO Military Decoration Merit 1914 1918

World War One, WWI, IRON CROSS, 1813, 1914, German Medal - Superb condition!

Rare German Sword "Suum Cuique" with Medal Order of the Black Eagle/Acorns

UNIQUE 1960s BIG DADDY SURFERS CROSS -DEPICS IRON CROSS WITH SURFER AND CROWN

Prussian 1864 Alsen Cross NICE!

WW1 German Iron Cross Silk Ribbon - Thin 5/8ths of an inch across

IMPERIAL GERMAN ARMY 25 YEAR SERVICE CROSS

WW1 WWI Prussian German Army Grand Knights Iron Cross Silver Oakleaves Oakleaf

WW1 WWI Prussian Imperial German Army Officer General Grand Knights Iron Cross

RAREST WW1 GERMAN Navy Marine GOLD-1st Class WOUND Badge !!!!!

GERMANY WW1 Iron Cross EK1 medal decoration chain 1914 18 Decoration Patriotic

German cross, order, goblet of honour

RARE 1919 Imperial German 500 Mark 4 1/2% Bond Certificate+ coupon Stadt LEIPZIG

RARE 1919 Imperial German GROSS BERLIN 1000 Marks Bond + Matching Coupons!

WWI Baden 1914-1916 Cross for Voluntary War Aid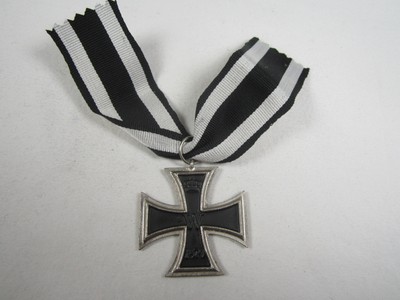 WW1 WWI German EK1 IRON CROSS 1870 2nd class w ribbon

WW1 WWI Imperial Army German Pour Le Merite Blue Max Silver Oakleaves Diamonds

WWI "800" Marked EKII NICE!

BAVARIA. Fire Service Decoration for 25 Years Of Service

Bayern Dienstauszeichnung II. Klasse 12 Year Service Medal

HINDENBURG CROSS W/SWORDS for ww1 vets in combat german WWI MEDAL maker "O.2"

1897 WW1 SILVER MEDAL Coin Inf.Regt.Graf Barfuss4.Westf.No.17 Wilhelm f.Shooting

WW2 / WW1 GERMAN DEATH HEAD STURMBAON 106 BADGE

Imperial German WWI Galopi Star B.B.& Co. marked perfect enamels

Der Stahlhelm Pin * German * WWI * WD Ges Gesch * Steel Helmet Frontline Soldier

Germany German WW1 Medal Decoration Honor Hindenburg War Cross 1914 1918 Kaiser

Original German Germany WWI, Gray Wounds Badge for Several War Wounds, nr

Original WWI SW Iron Cross 2nd Class, with Original Ribbon

MALTESE CROSS WW1 GERMAN VETERANS PATCH
HIGH BID
$9.50

BIN: $12.50

wwi german iron cross second class full size medal ek2 ww1 imperial

WW1 GERMAN IRON CROSS 1914, 1ST CLASS, SILVER, VAULTED

wwi german iron cross cavalry pendant award medal unusual ek ww1

Original German WWI Bavaria 1916 Ludwig Iron Cross Medal on Original Ribbon
HIGH BID
$36.99

BIN: $49.99

Fleet medal of war ships Kriegsmarine WWI WWII including case Bismarck Tirpitz