WW I US GI ENFIELD BAYO. LEATHER SCABBARD GREAT FIND!!!!!!!!!!

US M1911 & M1911A1 PISTOL BARREL LINK AND LINK PIN - BLUED - ORIGINAL USGI

WWI American Trench Art Signal Corps U.S. Naval Aviation Brass Mug Engraved

British Enfield Rifle parts

Colt 1901/1903 revolver holster .38 caliber

wood ammo box Wooden Ammunition Box for British Vickars mg

Vintage WWI Brass US Field Compass WW1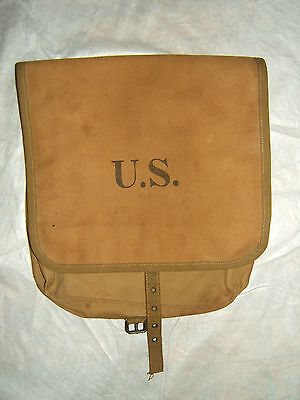 1909 ria spanish american war span am ww1 wwi era side pack bag us u.s. army

Vintage U.S. Army M1912 Squad Gun Cleaning Kit for 1911 Colt Auto - Incomplete

1917 Enfield Sporter Stock Fajen

ORIG RARE WWI UNITED STATES MARINE CORP DOG TAG WITH NECK TIE - UNISSUED CON.

US MODEL 1911&1911A1 PISTOL SLIDE STOP - marked with #2 - CHECKERED - BLUED

Original WWI US Army 10 Pocket Ammo Belt Eagle Logo Snap Closures

1904 U.S.Army Watervliet Arsenal Leather Ammo Pouch With Belt Original+Beauty!

Original WWI US Army 10 Pocket Ammo Belt

WWI 1904 Anchor Brand Military Belt Buckle Qty 3

Long WWI Kerr N0-Buckl Sling for M1917 Enfield

WWI 1916 First Aid Tin Sealed

1903 SPRINGFIELD BUTT PLATE

Original WW1 US Mess Kit & Utensils with Matching Date 100% Original - 1917 Date

Original WW1 US Mess Kit with Art and ID - 100% Original - 1918 Date

U.S. WWI 1917 Half Moon Clip .45 cal 3 Pocket Pouch

Original WW1 US Canteen - 100% Original - 1918 Date

Pre WWI M1910 Mills Web Garrison Belt Rimmed Eagle Snap Rifle Cartridge Pouch

ORIGINAL WWI USN/ USMC CORPSMAN NAVY DOCTORS FIELD SURGICAL KIT COMPLETE

M1910 WWI M1910 Mills Web Garrison Belt " US " Belt Plate Clasp Buckle

WWI or WWII Leather 12 Gauge Shotgun Shell Ammunition Belt

WW1 U.S. ARMY COMPASS

VINTAGE FRANCE IRIS PARIS BINOCULARS ENGRAVED BULL DOG WORKING OPERA GLASSSES

Original WWI Grenade Bag Khaki US Army Green

US MODEL 1903 SPRINGFIELD RIFLE "C" STOCK-ORIGINAL

Kerr Type M3 Sling for Thompson

Two Rare Orginial Antique WWI Wooden Ammunition Box Cases For M1917

WW1 US Army machine gun tripod carry case / spare water cooled sleeve carry bag

WWI US Army PRI MD Soldiers DOG TAGS SET ORIGINAL NICE USA ESTATE MILITARY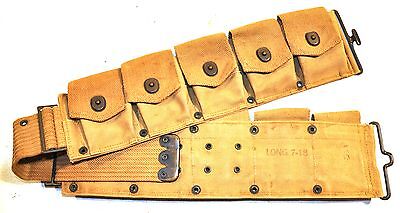 WW1 GOOD CONDITION 'LONG 7-18' U.S. M1918 DISMOUNTED CARTRIDGE BELT
U.S. SPRINGFIELD 1903A3 FRONT SIGHT BLADE - BLUED - ORIGINAL USGI

unknown ww1 Leather ammo pack ? N*R* great shape

unknown ww2 or later ? 12 in. Bayonette no sheath N*R* great shape

1915 WWI U.S. Army MILLS 10 Puckered Pocket Ammo Ammunition Cartridge Belt