VINTAGE ULSTER LINEN DISH TOWEL TEA TOWEL KITCHEN BATHROOM HORSES RUNNING

HOT PINK, TURQUOISE AWNING STRIPES Vintage Unused Linen Tea Towel NOS

VINTAGE ULSTER LINEN DISH TOWEL FABRIC TEA KITCHEN BATHROOM HORSE THOROUGHBRED

TWO Vintage Embroidered Floral Kitchen Tea Towels Appliques & Embroidery Pastels

VINTAGE APRON wOw!!! LOOK AT THE CURRENT COLORS!

Vintage 1955 Kitchen Towel TO HELL WITH HOUSEWORK TO HELL WITH DISHWASHING

2 Vintage Ecru & Yellow Embroidered Kitchen Tea Towels

Lot of 5 Vintage Cotton Feedsack Calico Prints Organdy Special Occasion Aprons

4 Vintage Embroidered White Cotton Dish Towels/Penquin Theme

Vintage White Kitchen Tea Towels Blue Embroidered Flowers

Vintage Apron -- Latin American motifs

STUNNING HANDMADE 1940'S-1950'S EMBRODERD KITCHEN TOWEL LOT.BEAUTIFUL, NEVER USE

Lot 2 Vintage Hand Embroidered Cannon Dish Tea Towels Striped Bake Saturday +

7 White Cotton Dish Towels & 2 Packages of Hot Iron On Transfers

Vintage Linen Kitchen Towel Cloth Food Calorie Count 16-1/5"X28 VINTAGE NEW

Vintage Linen Tea Towel Huge Blue & Green Flowers

STUNNING HANDMADE EMBRODERD KITCHEN TOWELSET. BEAUTIFUL, NEVER USE

VINTAGE TABLE CLOTH

VINTAGE 4 EMBROIDERED ELEPHANT DISH TOWELS ~4 DAYS OF THE WEEK~W/STRIPES

SET OF SIX VINTAGE LINEN DISH TOWELS, BLUE AND WHITE!!!!

NWT50s VTG 37" KITCHEN BIB APRON Paisly PINK BLUE FLOWERS Over-The-Head Tie Back

Vintage towel TOWELS lot Tea Time TWO linen hand embroidery EXCELLENT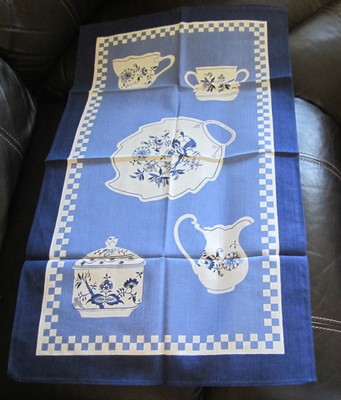 VINTAGE COTTON TEA TOWEL ~~ BLUE TOILE CHINA PRINT ~~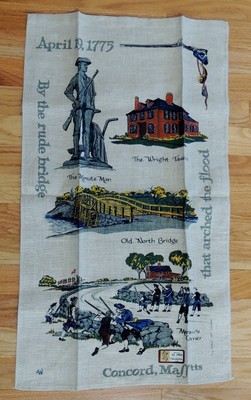 CONCORD MASSACHUSETTS souvenir TEA TOWEL never used

VINTAGE KITCHEN LINEN TOWEL, MAINE THEME, LOBSTERS,WHARF, BOAT RED ON BEIGE

PAIR OF FANTASTIC WILLIAMS SONOMA KITCHEN TOWELS LINEN & COTTON 27 BY 22 INS

Vintage NEW & UNUSED New Zealand Linen Cotton Kitchen Hand Towel Breeds of Sheep

VTG-APRONS-LOT OF 4-COTTON-ASSORTMENT-RETRO-MAD MEN-

VINTAGE CHILDS PEACH AND WHITE CROCHETED APRON NEEDS TOP TIES NICE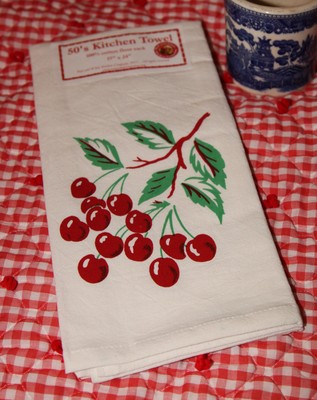 Vintage Style Cotton Flour Sack 50's Kitchen Towels with Bright Cherries!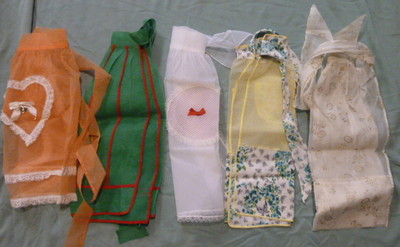 VTG-APRONS-LOT OF 5-SHEER-NYLON-COTTON-ASSORTMENT-RETRO-MAD MEN-

GRAPES-GRAPES-GRAPES APRON NOW DESIGNS-SO NICE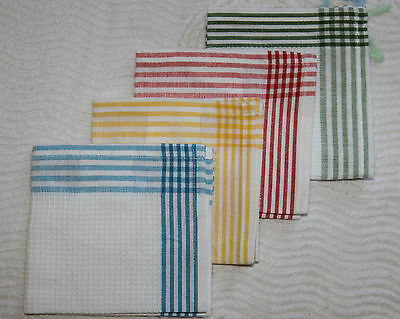 NEW Vintage-Style100% MULTI-COLOR Cotton Waffle Dishcloths - Red & White Kitchen

Kitchen Pot holder and Apron

VINTAGE COLLECTIBLE 7 DAYS a WEEK EMBROIDED DISH CLOTHS NEW OLD

UNUSED Vtg 1960s Souvenir CALIFORNIA Kitchen LINEN Dish Towel KAYDEE HANDPRINTS

CHARMING KITCHEN TOWEL FROM HOLLAND WITH DUTCH DESIGN

VTG-APRON-OROCET-COTTON-FLOWERS-RETRO-MAD MEN-MINT-

1972 1977 Calendar 70's TWO Vintage Kitchen Dish Towels Country Folk Farmers

VTG-APRON-USA-LARGE-50/50-FLOWERS-RETRO-MAD MEN-MINT-