Rare Skilton foote & co bunker hill pickles bottle

LARGE 13" ANTIQUE CATHEDRAL PICKLE JAR BOTTLE 6 SIDED NICE COLOR

Red Bird Cathedral Pepper Sauce with Original Paper Label & Crooked Neck!

c1880 CHINESE GINGER JAR-DUG IN OXFORD, ENGLAND-GREAT CONDITION

Old 13 1/4" Cathedral Pickle Jar / Bottle Aqua Lamp Base
PRICE
$99.99

or best offer

ANTIQUE BULBOUS LACO OLIVE OIL BOTTLE

LARGE BUNKER HILL PICKLES BOTTLE NO RESERVE

VINTAGE LEA & PERRINS WORCESTERSHIRE SAUCE BOTTLE

VINTAGE 2- OLD PURPLE SAUCE BOTTLES FROM c1900
PRICE
$15.90

or best offer

ANTIQUE L. ROSE & CO. AQUA EMBOSSED LIME JUICE BOTTLE WITH STOPPER LOT

Dundee Marmalade Crock Pot. Pot made in England. 3 defects. see photos. no lid

LOT of 2 c1910 DEEP PURPLE-AMETHYST CHEERY or OLIVE JARS

RARE Antique Aqua Glass 1890's-1910 DILL Pickle Vineger Bottle

vinegar cruet

Rare Label Antique Pickle Bottle Keokuk sour pickles LARGE Vintage bottle jar

FREEPORT,IL W.T.RAWLEIGH EMB & LABEL RED FOOD COLOR BOTTLE WITH CORK COAL TAR

Tomato Catsup - Excelsior Brand ca.1890's

N.Wood - Portland Maine - ca.1870's

Beautiful Large Cathedral Pickle Possibly Pontil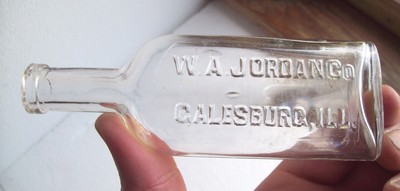 GALESBURG,IL SCARCE J.A.JORDAN & CO 1890s HAND BLOWN OVAL EXTRACT BOTTLE?

Antique Purple Red Snapper Sauce Bottle, New Orleans 1890s

WARRANTED PURE HONEY 1 POUND - LIGHT AMETHYST ANTIQUE BOTTLE or JAR FROM 1800's

Blown Antique Japanese AJI-NO-MOTO Sealed Bottle, Content, Labels Never Opened

Durkee ringed peppersauce bottle 1870's Oh antiques medicine bottle old bottles

Quart Jars w Ribbed Sides Vintage Qty 3 UNIQUE w Lids

East Saginaw, Mich. bottle from L. M. Lyon

Two Very Nice Bottles 8 ¾ Inch Tall Cathedral and 8 Inch Tall Black Glass

Marshall's Maraschino Syrup BIM Great condition

lovely bright green berry bottle w/ crude applied lip 1880's

ANTIQUE C. 1860 HONEYCOMB AND PANEL CONDIMENT FOOD SAUCE BOTTLE 3 DAY NR

Collectible Antique Condiment Bottle Peppersauce - Ketchup - etc.

Old J.W.Hunnewell bottle.

early 1880 S.S.Pierce bottle (from BIG DIG in BOSTON, MASS)

1870s CRUDE 6 SIDED CATHEDRAL PEPPERSAUCE GOTHIC WINDOWS APPLIED LIP CRACK AS IS

Vintage G. MASPERO'S EXTRA FINE LUCCA OLIVE OIL bottle BIM

large New England forest green free-blown food jar OP

Antique Japanese Vitamin Health Juice Bottle

LARGEVICTORIAN TEAL BLUE GREEN FOOD

Rare Early ROWAT & CO PICKLE JAR GLASGOW (United Kingdom) Excellent

Amethyst olive oil J. MOTTET & GIE CRESP MARTINENQ SUCCRS GRASSE FRANCE