Vintage Pepsi Bottle from Raleigh NC

A NICE 6 OZ AQUE EMBOSSED DR PEPPER 10-2-4 SODA BOTTLE GREENVILLE S C

Vintage coca cola bottle from raleigh nc

Vintage Indian Head Harvey's Lake Bottling Works Alderson PA 7 Oz Dark Green

A VERY NICE EMPTY ACL 12 OZS AMBER GLASS ORANGE CRUSH SODA BOTTLE .

23 ASSORTED VINTAGE BITTERS AND MEDICINE BOTTLES MANY SIZES AND VARIETIES

Lot of 5 vintage green glass bottles.

Georgia Bottle Hutchinson Albany, Ga. F.G.E & CO.

Vintage 1950's Embossed NEHI Soda Bottle Barre, Vermont

Early 1900's amber SS Coca Cola Bottle Richmond Va NR

Georgia Bottle Flint Rock Sylvester, GA. Pinched waste
Antique Cobalt Blue Bourjois Talcum Powder Glass Bottle with Cap

Florida Bottle Pensacola, Fla. Coca Cola

Vintage Green 4.5 Inch Bottle SanFrancisco 1915

Georgia Bottle Waycross Coca Cola

Antique Rubifoam for the Teeth EW Hoyt Lowell Mass Glass Bottle with Cork

1890's-1910 Antique DR.TRUE'S ELIXER Bottle, FAMILY LAXATIVE, Worm Expeller-ME

Vintage Bottle Plover Springs Company, Stevens Point, Wisconsin-Soda Pop 8 oz

Georgia Bottle Camilla Chero Cola

Vintage The Evans Chemical Co. BIG G Gonorrhea Cure bottle

Antique glass "patent" medicine Calumba full labels cork intact

Florida Bottle Dade City, Fla. Bottling Works

Vintage 1950's color embossed ACL Pepsi Cola Bottle Manchester New Hampshire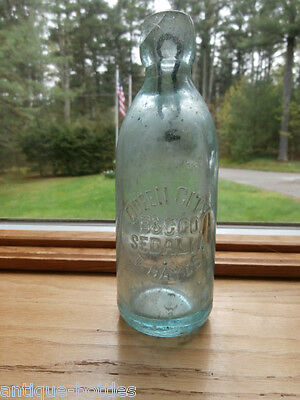 QUEEN CITY / B&C CO./ SEDALIA / T.HAYES***HUTCHINSON***

Georgia Bottle Flint Rock Albany, Ga.

Antique 7 1/2" Tall Light Cobalt Blue Glass BOTTLE

1890's Antique H K Mulford Co Philadelphia Cobalt Blue Cork Top Medicine Bottle

Florida Bottle Hutchinson Tampa, Fla.

BUFFALO GINGER ALE CHARLOTTE,N.C. SODA BOTTLE

2 nice bludwine bottles

5½" POLAR STAR COUGH CURE Medicine / Cure Bottle ~ Larger size ~ Near Mint

CORDELE, GA. RARE shoulder script rose Coca-Cola bottle

Two Collectable Bottles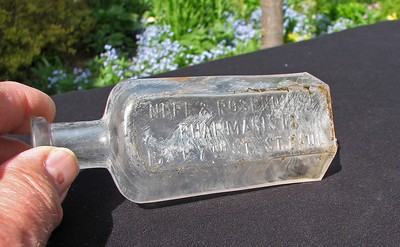 NEFF & ROSENQUIST PHARMACISTS 152 E. 7th ST. ST. PAUL Bottle

Big Nickel Pepsi Soda Bottle Exmore VA American Fostoria

old bottles

Vintage 1965 Mountain Dew Glass Bottle Hillbilly Soda Pop 10 ounces

A.M.PETT & SON. FAMILY DRUGGIST & CHEMISTS WINONA, MINN. bottle

soda bottle 21 seven oz ace Nice bottle

7fl Oz Big Nickel Pepsi Soda Bottle Exmore VA American Fostoria