Gulf Tire Advertising Insert - Original sign not porcelain

Vintage GATOR'S TOWING SERVICE Metal Ad Sign 24 HOUR GARAGE Tin

Gulf Tire Advertising Insert - Original sign not porcelain

Gulf Tire Advertising Insert - Original sign not porcelain

Vintage Metal SINCLAIR OIL Ad Sign SERVICE GARAGE Tin

Vintage SKELLY Supreme grease , 35 pound empty pail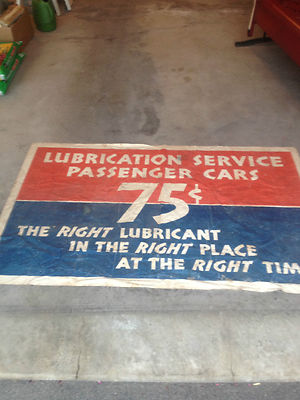 RARE ANTIQUE GAS STATION SERVICE SIGN 1930s SWEENEY LITHO BANNER OIL SERVICE
SHELL SOAP BOX DERBY HANDY OIL OILER

Very Early Porcelain Royal Daylight Motor Oil Flange Sign
PRICE
$349.95

or best offer

Bowes Seal Fast Super Service Kit VintageTire Repair 1930's?

Vintage Amalie Motor Oil Grade 20-20W 1QT can

ESSO Oil Gas Porcelain Advertising oval sign

Rare mobil oil can 1910's

Vintage Antique Prime Fiebing's Neatsfoot Oil Compound Can

Vintage USMC Blitz Fuel & Tool Mate Chain Saw 1.5 Gallon Metal Gas Can Tool Box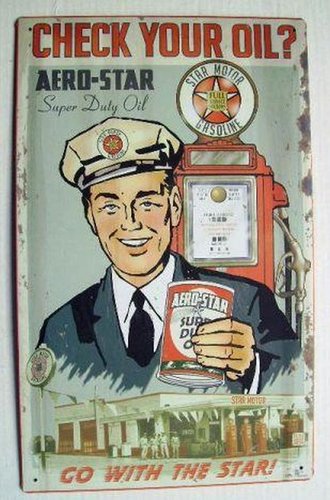 Vintage Star Oil Gasoline Metal Sign Gas Station Pump Garage

3 Different SHELL Cooling Systen Metal Cans / All are FULL

O.K.'s Oil Sewing Machine Oil Can 4 oz Handy Oiler Tin Near Mint

MacMillan Royal Scot Household Oil Can 3 oz Handy Oiler Tin

Vertical Phillips 66 Battery Sign - Embossed Metal - Gas Oil - RARE ORIGINAL
PRICE
$1,199

or best offer

Vintage 1960's Gas Station Price Sign

Hypo-X Lubricating Oil Can 4 oz Handy Oiler Tin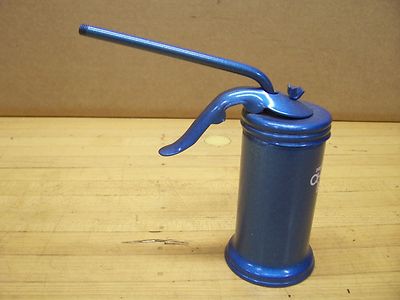 Vintage NOS Eagle Metal Pump Oiler Oil Tin Can

Gas Can Vintage Poloron Plastic Carry Can New Rochelle NY USA Made

Harley Davidson Power Blend Motorcycle Oil Can 1 QT

Vintage NOS SINCLAIR DINO Moisture Control Fluid 12 OZ. Metal Can, Full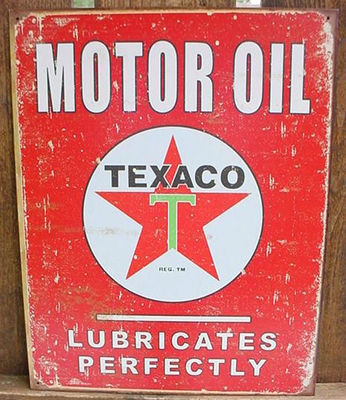 Vintage Metal TEXACO MOTOR OIL Sign SERVICE GARAGE Tin

Canadian Tire Heavy-Body Machine Oil Can 4 oz Handy Oiler Tin

Cool Tool Cutting and Tapping Fluid Oil Can 4 oz Handy Oiler Tin

Vintage Winchester Lead Top Gun Oil Can Handy Oiler Tin

RARE VINTAGE MOLY BLACK GOLD ONE QUART METAL MOTOR OIL CAN * UNOPENED AND FULL*

Neat Old and Original Porcelain Skelly Gas and Oil Sign, Petrolina later Texaco

Finol Oil Handy Oiler Can 4 oz Tin with Lead Top

1963 Large DX Gas & Oil Porcelain Metal Sign Service Station Vintage Original

NOS Vitaline Motor Oil, Southern Oil Service, Nashville, TN, Metal Quart Can

Set of three small antique oil cans

VINTAGE OIL CAN SEARS CROSS COUNTRY MOTOR OIL 5 QT METAL TIN JUG RESTORATION

ESSO OIL AND GASOLINE 24" ROUND METAL GAS SIGN

Vintage Lot of 6 oil/lube cans!!!! Amazing Condition!!!!

antique Brookins motor oil jar with metal pouring spout---refillable, back then