T.S. REED & SON, BERTRAM, TEX.; BURNET COUNTY

1958 GREATER POMPANO BEACH FLORIDA GOLDEN JUBILEE 50 CENT TRADE TOKEN

S. & B., COLUMBUS, TEX., COLORADO COUNTY; SALOON TOKEN; TEXAS

EL PASO DAIRY CO., (EL PASO, TEXAS); EL PASO COUNTY; DAIRY TOKEN; INCUSE

good for 10 cents in trade anchor club la verne & glen brooklyn

1900 GILROY CA. CALIFORNIA (SANTA CLARA, GARLIC) FILICE & PERRELLI CANNING TOKEN

Snohomish, (Wash.)-5c-In Trade

Dickerson, Mississippi Trade Token

Washougal, Washington Trade Token

Arizona trade token - Bylas Trading Enterprise 25¢, AZ (Gem BU) 40s-50s

Marysville, Washington Trade Token

G.G. Lloyds -5 Cents in Trade Token..

Iola, Wisconsin Trade Token

Falun, Kansas Trade Token

1900s SAN ANTONIO TX. TEXAS OLD "DRUG STORE" PHARMACY "GOOD FOR 2c" TOKEN BEAUTY

WASHINGTON,INDIANA 1816-1966 50 CENT SOUVENIR MONEY TOKEN

Traverse City of Michigan Cherryland 1947 Centennial .25 cent Brass Token

THE SAVINGS BANK OF UTICA NEW YORK-ADVERTSING TOKEN-A$1 INTHE BANK IS WORTH

1900s COULTERVILLE CA. (MARIPOSA CO, YOSEMITE) THOMPSON (RAN SALOON) TRADE TOKEN
The Spot // Good For One Bottle Beer

Providence, R.I., Mechanics Clothing Co. large 50¢ Rebate Trade Token

Mitchell, S. D., S.A. Dales 5¢ Trade Token

Mitchell, S. D., The Opera House Store 5¢ and 25¢ Trade Tokens

Vintage Spencer Iowa Trade Token The Grand Good For 5 Cents in Trade

The City Bank and Trust Co. Denver, Colorado Token

VINTAGE BRASS WEIGHT WATCHERS VALUABLE MEMBER $20.00 DOLLAR CREDIT COIN TOKEN

"Good For A 5 Cent Cigar" token from "Pete's Cigar Store", Chariton, IA!!

1900 ELKO NV NEVADA "GOOD FOR 1 CIGAR, THE PALM" OCTAGONAL BRASS TOKEN, BEAUTY !

1912 - 1987 Ralston, Nebraska Diamond Jubilee Uncirculated Token Medal! #1366!

J.E.TURNS GUINEAVILLE ILLINOIS GOOD FOR 50 CENTS TOKEN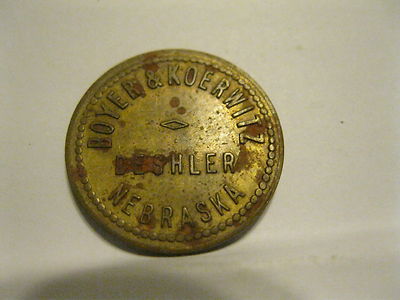 Boyer & Koerwitz Brass Trade Token - Deshler, Nebraska

MURPHYS SKUNK HILL FREEDOM WI GF ONE STANDARD MIXER drink TOKEN

1900s ELY NEVADA NV NEVADA (WHITE PINE CO) "AT THE ELY BUFFET" OLD TOKEN

Vintage HOTEL DELHIGH W.C. QUICK Brass Trade Token - Phillisburg, NJ

Vintage BLUE DIAMOND COAL Brass Trade Token - 5 Orco - Royal Blue, Tennessee

Vintage MARYLAND COCKTAIL LOUNGE Aluminum Trade Token - Good for 25 Cents Drinks

1900 SAN JUAN BAUTISTA CA (SAN BENITO CO) "CHAS KESLING" (RAN SALOON) OLD TOKEN

Vintage WILLIAM DUNCAN Aluminum Trade Token - Muskegon, Michigan - Good for 5

Kinross (Michigan) Prison Trade Token

Evarts Kentucky Coal Trade Token