ANTIQUE EARLY VICTORIAN GIRLS COTTON PRINT DRESS~NO BUTTONS~ STRING TIES IN BAC

Antique Victorian long sleeve childs Silk Handmade Gown Dress Doll

PRECIOUS antique ecru baby bonnet

ANTIQUE LEATHER BABY SHOES - WHITE WITH BUTTONS AND 3 STRAPS

Vintage Cotton Child or Doll Night Gown Off White Victorian Looking

Girls Vintage 1920's Brown Velvet Victorian Era Shawl Cape Muff Hand Warmer

antique CHILDS blue cotton DRESS, well worn, Primitive as is

Antique CHILDS off White and Black Cotton Windowpane fabric Dress Primitive

ANTIQUE EDWARDIAN CHILD'S CREAM EMBROIDERED WOOL COAT JACKET c1910

vintage little girls blue dress with bonnet Victorian Style

ANTIQUE PAIR OF BLACK AND BROWN LACE UP HIGH TOP CHILDRENS SHOES SIZE 3 ?

~HEAVENLY DRESS OF LAWN & LACE FOR TODDLER c1890 * EMROIDERY, LACE, GORGEOUS!

vintage childrens' leather and wood shoes or boots made in England

VINTAGE CHILDREN'S SHOES EARLY 1900'S BLACK WITH BUTTONS HIGH TOPS

Vintage Christening gown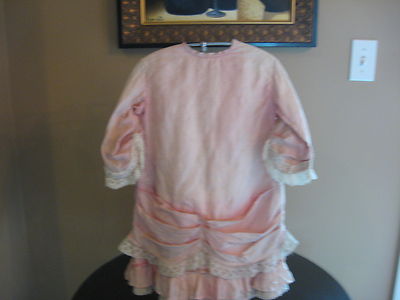 Antique Victorian Childs Pink Silk and Lace Church Dress ANTIQUE OLD DOLL DRESS

Vintage 1920s Jacket Childs Denim Workwear Donut Hole Buttons Rivets Well Loved

VICTORIAN / EDWARDIAN SHEER BABY BONNET / CAP

VINTAGE ANTIQUE 2 PAIR OF CHILD'S LEATHER BABY SHOES

Antique lot of children's clothes, 3 pieces are vintage. Eyelet & detail.

Antique High Button Brown Leather Baby Shoes

1910s Edwardian Vintage Boys Black Wool Suspender Pants Anchor Buttons Nautical

Vintage very long christening dress-pintucking-embroidery-scalloped eyelet trim

ANTIQUE BOOTS LEATHER HOOK BLACK WITCH ORIGINAL

VICTORIAN EMBROIDERED LEATHER CHILDRENS BUTTON SHOES CA 1880-1890'S

Boxed Set 3 Antique FRENCH Handmade Lace Silk Baby Babies Bonnets Cap Hat c1900

Edwardian-1920s Little Girls Silk Dress - Drop Waist - Pink with ecru net lace

Lot of 10 Antique Children BABY Clothing White Christening Gown Dress slip

ANTIQUE VICTORIAN Baby Button High Top Soft leather Shoes

ANTIQUE VICTORIAN EDWARDIAN FANCY FITTED BUTTON FRONT CAMISOLE CAMI BLOUSE

ANTIQUE VICTORIAN WHITE COTTON PANTALETTES KNICKERS EYELET LACE DOLL OR CHILD SZ

Antique 1920's ?? Vintage Pearl Waist & Waist Union Suit New w/ packaging

LOT 2 ANTIQUE VICTORIAN FULL FLOUNCED DRESS SLIP & FANCY PETTICOAT

Antique Vintage Edwardian 1920's Batiste Cotton Embroidery Lace Baby Bonnet

VICTORIAN CHILDS BLACK VELVET COAT W' 2 FRONT POCKETS AND BACK DETAILS/ LINED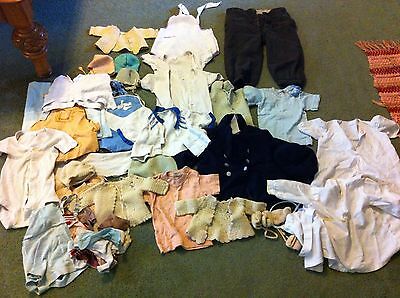 Vintage Baby Kids Clothes Lot Some Antique Handmade Dolls Children Victorian

VINTAGE CHILDS / BOYS NAVY,NAVAL,SCHOOL OUTFIT ,PANTS JACKET 1920'S -30'S ?

ANTIQUE DOLLS SILK CHRISTENING GOWN WITH RUFFLED BONNET&PETTICOAT 32" LONG

ANTIQUE BABY BATISTE WHITE GOWN LOTS OF DETAIL HAND MADE IMPORTED NEIMAN MARCUS

ANTIQUE CHILD'S LEATHER SHOES, GREEN OR BLUE WITH BUCKLES AND WHITE BUTTONS