Boxed Set 3 Antique FRENCH Handmade Lace Silk Baby Babies Bonnets Cap Hat c1900

HARD TO FIND ANTIQUE VICTORIAN CHILDREN'S SHOES IN ORIGINAL BOX

ANTIQUE VICTORIAN Baby Button High Top Soft leather Shoes

ANTIQUE VICTORIAN EDWARDIAN FANCY FITTED BUTTON FRONT CAMISOLE CAMI BLOUSE

Antique Victorian long sleeve childs Silk Handmade Gown Dress Doll

Antique 1920's ?? Vintage Pearl Waist & Waist Union Suit New w/ packaging

LOT 2 ANTIQUE VICTORIAN FULL FLOUNCED DRESS SLIP & FANCY PETTICOAT

VICTORIAN CHILDS BLACK VELVET COAT W' 2 FRONT POCKETS AND BACK DETAILS/ LINED

Antique Vintage Edwardian 1920's Batiste Cotton Embroidery Lace Baby Bonnet

Vintage 1920s White Romper W/Embroidered Rabbit/Balloons Approx. Size 4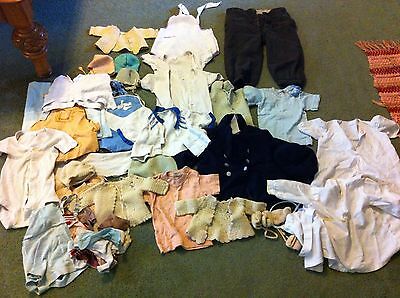 Vintage Baby Kids Clothes Lot Some Antique Handmade Dolls Children Victorian

Antique High Button Brown Leather Baby Shoes
PRICE
$39.99

or best offer

VINTAGE CHILDS / BOYS NAVY,NAVAL,SCHOOL OUTFIT ,PANTS JACKET 1920'S -30'S ?

Beautiful Broderie Anglaise LUSH Lace Antique Child's Dress c1900

Antique Vintage Toddler Doll DRESS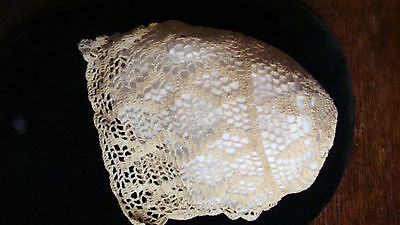 1800'S FINEST HAND CROCHET LACE INFANT/BABY CHRISTENING BONNET/CAP

Antique 1930's White Batismal Gown Baptism Embroidered Fancy Childs Gown

Antique Victorian ROLL OF HONOR Boys Velvet School Jackets shirt pin 1800s 1900

Antique Vintage Girls White Cotton Dress 1850-60"s Style

Vintage Cotton Child or Doll Night Gown Off White Victorian Looking

Antique Childs Cotton Socks Stockings Brown Stripe Adorable Shabby Doll Bear OLD

Child's Stockings Red Stripe Cotton Antique Vintage Shabby Doll Bear Socks Cute!
STUNNING ANTIQUE EDWARDIAN 1900s CHILDRENS GOWNS SHOES BONNET CROCHET LACE NICE

Child's Long White Cotton Stockings Red Stripe Cuff Antique Vintage Doll Bear

Antique Vintage Baby Doll Lace Bonnet / Hat

Child's Antique Victorian Velvet Dress with Bow

Antique lot of children's clothes, 3 pieces are vintage. Eyelet & detail.

VINTAGE VICTORIAN BABY BONNET OR CHRISTENING HAT 1900s DOTTED SWISS LACE FLOWERS

VINTAGE VICTORIAN BABY BONNET OR CHRISTENING HAT 1900s EYELET LACE COTTON CUTE!!

VINTAGE VICTORIAN BABY DOLL BONNET PINK COTTON BATIST PETAL LOOK HIGH END 1900s

~HEAVENLY DRESS OF LAWN & LACE FOR TODDLER c1890 * EMROIDERY, LACE, GORGEOUS!

old antique victorian long white lace embroidered baby dress black socks doll

OLD RED WOOL DOLL PETTICOAT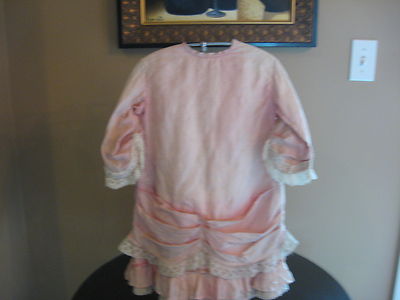 Antique Victorian Childs Pink Silk and Lace Church Dress ANTIQUE OLD DOLL DRESS
PRICE
$97.77

or best offer

Vintage UNCLE SAM Childs Costume USA Patriotic Pants Antique Great For Display

Very Ornante Antique Childs Dress Could Be Used For A Doll-Needs TLC

ANTIQUE~VINTAGE~RED VICTORIAN~CHILD~DOLL~DRESS~LINSEY WOOLSEY~VELVET ~LACE NECK

AUTHENTIC VICTORIAN HAND MADE WOOL BABY JACKET, VINTAGE 1900

Antique child's Long Johns

Antique Victorian 38" long English Christening Gown