The No. 1 Ladies' Detective Agency No. 1 by Alexander McCall Smith (2003, Paperb

LOT OF 6 BOOKS BY LEE CHILD - JACK REACHER
PRICE
$11.99

or best offer

Hilary Duff Disney Lizzie McGuire Book lot

LOT OF 7 KERI ARTHUR BOOKS GREAT BUY & GREAT READS!!!

Lot of 7 Paperbacks, Mysteries by Various Authors

Lot of 10 Romance Novels

Lot of 9 Diana Palmer Contemporary/Historical Western Romance books

LOT OF 3 SERENDIPITY BOOKS--STEPHEN COSGROVE, ROBIN JAMES--KIDS BOOKS

44 seek and find puzzle books

Lot of 9 ANNUAL WORLDS BEST SF Science Fiction 73-83 Hardcover Books

Magic Castle books by Jane Belk Moncure Lot of 8

Christian Fiction Lot of 6 American Romance

6 FAMILY CIRCLE Cookbooks (Hardcover)

Lot of 6 Georgette Heyer books PB

Lot of VAMPIRE: THE MASQUERADE Clan Novels (7 Books)

Carousel Readers Book Lot Guided Reading Kindergarten Levels Dominie Press
HIGH BID
$17.99

BIN: $24.99

Lot of 6 TERRI BLACKSTOCK books CAPE REFUGE

Lot of 9 Mysteries of the Unknown Time Life Books

Lot of 8 LOVE INSPIRED HISTORICAL April May June 2013 INSPIRATIONAL ROMANCE

LOT OF 6 PONY PALS BOOKS BY JEANNE BETANCOURT
PRICE
$14.99

or best offer

STAR WARS Fate of the Jedi #1 2 3 4 5 6 8 Outcast Omen Abyss 7 Hardback Lot

LINDA HOWARD " ROMANCE / THRILLER" BOOK COLLECTION - Lot of 10 - Great Reads!

Lot of 9 Brad Steiger Paperbacks Ghosts Psychics and other paranormal subjects

Lot of 6 HARLEQUIN PRESENTS romance books (2012)
HIGH BID
$4.99

BIN: $6.50

Complete Earth's Children Series Novels by Jean M. Auel ~ 6 Paperbacks

10 Paperback Books on the Occult and Paranormal by John Macklin

Lot Of 8 Aviation Quarterly HB 1978 & 1979 Limited Editions

Lot of 6 HARLEQUIN PRESENTS romance books (2011)
HIGH BID
$4.99

BIN: $6.50

Lot of 9 Charlotte MacLeod mystery books PB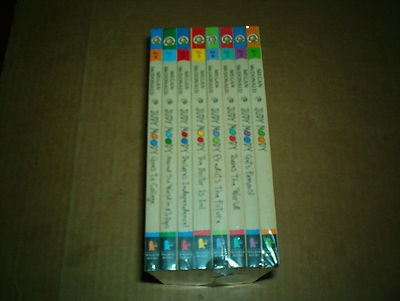 judy moody 8 lot pb sealed NEW gets famous saves the world predicts future

Uncle John's Bathroom Reader - LOT OF 8 !!!

Lot of 6 Harry Potter Paperbacks J.K. Rowling
PRICE
$15.99

or best offer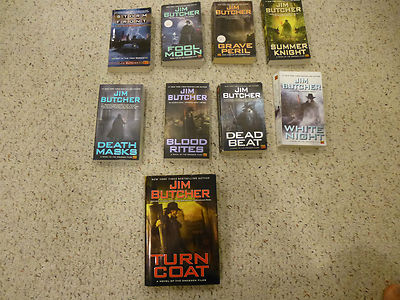 Jim Butcher series, Dresden Files, volumes 1-7, 9, 11 + Hardcover

Lot 6 Cookbooks White House Ice Cream Food Processor Hungarian New England South

HAROLD COYLE~LOT OF 8~FREE SHIPPING

6 HC Classics Reader's Digest World's Best Reading Little Women Call of the Wild

Lot of 6 Highlander TV paperbacks Duncan MacLeod

LOT OF 7 NIGHTSIDE BOOKS BY SIMON R. GREEN
PRICE
$10.99

or best offer

Lot of 8 Quantum Leap TV paperbacks

Lot of 9 Kurt Vonnegut jr paperbacks