antique metal and glass button..WOW!
L796- Vintage 1925 Singer Treadle Sewing Machine Head Sphinx

190 Assorted Colorful ~OLD~ Vintage PLASTIC Buttons *Mixed Lot* Pink Blue Purple

LOT OF 21 ANTIQUE / VINTAGE MIRROR BACK METAL TWINKLE BUTTONS WITH SOME SETS

Antique Homemade Pincushion-Brass/ Bronze Doorknob -OOK - Top - Plus Buttons

BEAUTIFUL ANTIQUE VICTORIAN BRASS CHERUB ON A QUARTER MOON BUTTON

LOT OF 34 SMALL TO MEDIUM ANTIQUE VEGETABLE IVORY BUTTONS IN SETS ALL FANCY!

Vintage Victorian Metal, Misc Button Lot

LOT OF 18 GORGEOUS SMALL / MEDIUM ANTIQUE BLACK GLASS BUTTONS W/ VARIOUS LUSTERS

24pc. Gold Metal Mini Crown Buttons 1/2"

CHINA HALF-FIGURES called Pincushion Dolls

ANTIQUE LEO POPPER CLAM BROTH & MINT GREEN GLASS BUTTON w/STERLING SILVER FOIL
Antique Molded Glass Charmstring button, a "Glory"

1920s Antique *Stitchwell* Miniature Childs Cast Iron Sewing Machine w/ Box

Wheeler & Wilson W&W #8 Antique Sewing Machine Needles Vintage Boye

Antique Brass button, Lady Watering a Pot of Flowers, Steels Border
Antique Glass Kaleidoscope button, Checkered Look, Colorful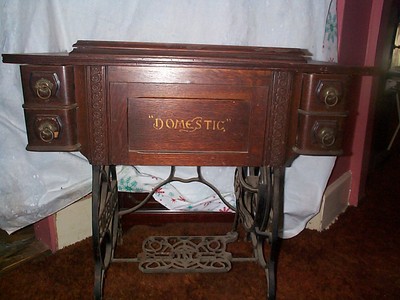 ANTIQUE "DOMESTIC" SEWING MACHINE TREADLE STYLE.
HIGH BID
$79.99

BIN: $109.99

ANTIQUE,LOVELY HAND ENAMELLED ROSE BRASS BUTTON
small Antique, Enamel Button, 2 Peacocks

2 SETS OF 10 (TOTAL OF 20) LOVELY CHINA STENCIL BUTTONS DARK LAVENDER & IVORY

Antique French Bisque Doll Head for Pin Cushion

Antique Brass button "The Little Fish and the Fisherman",From Gustave Dore Print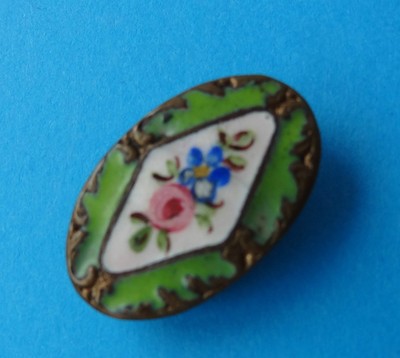 ANTIQUE,LOVELY HAND ENAMELLED ROSE & FORGET ME NOT FLORAL BRASS BUTTON

Antique Sewing Etui Kit Case Carved Bone Handle Tools & Scissors Thimble Pencil

Antique Singer Industrial Leather Sewing Machine - Model 29-4 NO RESERVE

ANTIQUE FIGURAL FLAPPER LADY GERMAN PIN CUSHION DOLL*GERMANY HALF DOLL*Head Band

1.375" MOTHER OF PEARL BUTTON (1616)

VINTAGE~ART NOUVEAU~VICTORIAN~STERLING SILVER~PAIR~BUTTONS~W/ LADIES~~

Singer Treadle Sewing Machine ~ Antique Oak Puzzel Box w/ attachments + 3 Feet !
HIGH BID
$28.95

BIN: $38.95
GREAT Antique Carved Pearl Abalone Shell 1" Button w/ Black Initial 'D"

Five Antique Painted Mother of Pearl Buttons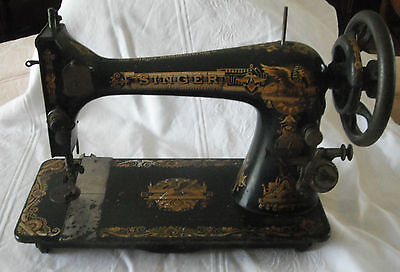 Antique Vintage Singer Sewing Machine

Antique Buttons Lot of 3 very Large Victorian (?) Buttons

Antique Buttons Lot of 20 Lucite, Bakelite,Glass, Metal, Enameled, Plastic

Antique Buttons Lot of 20 Celluloid Bakelite Enameled China Glass Metal

ANTIQUE/VINTAGE 4 BUTTONS BRASS/EAGLE

Vintage Antique Buttons Lot of 20 Bakelite, Glass, Iridescent, Metal, Assorted,

Wow! Victorian Sewing Bird

Antique Scissors Sterling Silver Handles Germany Magna Old Vanity Tool