Lobi Carved Bulbous Flute Burkina Faso African SALE Was $45

Very Rare Unusual Wooden Sculptures Tiki Old Mask

african -l'afrique--tribal-afrika-outil-tribal--arme-knife-congo-

Old Lobi African Wood Slingshot Talisman with Figure Burkina Faso

1968 mermaid marked ab

Antique 19th C Splint Miniature NE Woodlands Indian Basket

Old Tribal Ramu Hunter Wooden Amulet Mask Oceanic Art Papua New Guinea 13B13
PRICE
$89.99

or best offer

RARE AND OLD CAVE DOOR FUNERAL SULAWESI

Batak Sumatra Cheif's Staff Carved Wood & Horse Hair

Fine Old Markham Valley Banana Scraper, New Guinea, Missionary Collected

L208 ANTIQUE / VINTAGE NATIVE AMERICAN THUNDERBIRD COVERED BASKET - SEWING

Moro Barong

New Guinea WEST PAPUA large pig boar tusk necklace job's tears

Pre 1899 ANTIQUE ARAB ISLAMIC GUN POWDER FLASK N. AFRICAN TRIBAL TURKISH Ottoman

RARE Vintage Tasmanian Maireener Shell Necklace

Antique African Yoruba Tribe IBEJI Twin Figure STATUE carved Dollcarving

TWO TRIBAL ART CATALOGS KOTA, DAN, FANG , SENUFO, BEMBE , BAMANA, YAKA, SONGHYE

IMPORTANT & RARE - ANCIENT HAWAII STONE CARVED HAWAIIAN WOOD DAGGER "PAHOA"

Old African Tribal Basket, BAKONGO, CONGO

27" ANTIQUE PRIMITIVE HAND FORGED BLADE STYLE AFRICAN MASAI SPEAR SPONTOON

Wolfz-Gallery African Galoa Hunting Mask

Mali: Rare and Old Tribal used Large African Bambara mask.

Wolfz-Gallery African Bembe Mask

Dogon Shrine Female Figure Standing African Art

GothamGallery Fine African Art - Ivory Coast Baule Tribal Mask

Wolfz-Gallery African Senufo Firespitter Mask

Iv. Coast: Rare and Old Tribal used African Baule mask.

Antique Karuk/Karok/Hupa Indian Basket (DEAD MINT) 1900-1910

GothamGallery Fine African Art - Nigeria Ogoni Tribal Mask

Tabwa Beaded Mask DR Congo African Mask

MOZAMBIQUE - Old instruments to repair fishing nets in "faux" ivory

Early 1900's Antique Lithograph, E. I. Couse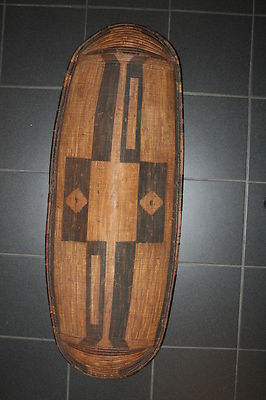 Very Old African Tribal Wicker SHIELD, YAKOMA, CONGO, 19th century

GothamGallery Fine African Art - DRC Lega Tribal Mask Bwami Society

Antique Framed B/W Photograph of "Two Elk" by Heyn Photo, Omaha 14 X 16

Collector Tribal Ramu Hunter Hand carved Charm Mask Papua New Guinea Art 13B14
PRICE
$69.99

or best offer

GothamGallery Fine African Art - Mali Senufo Kpelie Tribal Mask Twin Faces

Antique B/W of "Blackbird Chief" by Heyn Photo, Omaha 14 X 16

Very large Mossi Rooster African mask, stylized Tribal art, African Art

Retro metal pattern antique masks of ancient Greek mask mask