Antique Blue Onion Salt Box--Germany

Vintage W.Germany Blue Onion Dresden Classic Cup & Saucer set
PRICE
$9.99

or best offer

Czech Spa Spring Water Sipping Cup White "Blue Onion" Design by Zwiebelmuster
HIGH BID
$7.99

BIN: $11.99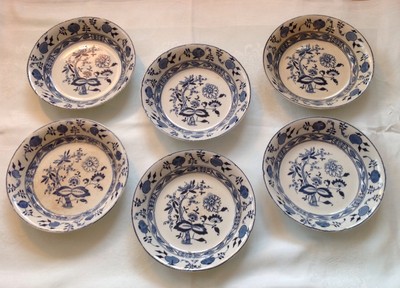 6 Antique 1800s Staffordshire Blue Onion Transferware China Bowls NICE!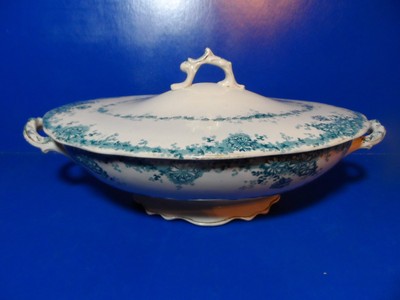 Cleveland Potteries England Covered Dish Onion Blue Corinthian Oval 1800's

1Staffordshire Blue/Wht Onion Lot - two 9" bowls with warmer pan and cover

VINTAGE BLUE ONION BLUE DANUBE DELFT 9" BLUE PLATE-JAPAN-MINT!

Vintage 4 1/2inch Pottery Blue Onion Pestle

Vintage Meissen Germany Blue Onion Double Relish Bowl with Handle

Blue Danube Blue Onion Cup & Saucer Bohemia Czech Rep. Cobalt Blue & White China
HIGH BID
$7.95

BIN: $10.34

PRIMITIVE SALT BOX BLUE WHITE WOOD COVER GERMANY 7812 ONION ANTIQUE VINTAGE

Blue Onion Zwiebelmuster Bohemia 1854-1994 Anniv. Czech Republic Bowl Dish Plate

Blue onions pitcher

Stone Fence Pottery USA Set of 2 Onion Soup Bowls. Orig. Recipe

Sugar Bowl & Lid in Blue Onion pattern by Zwiebelmuster

Small Coffee Pot and Lid in Blue Onion pattern by Zwiebelmuster

LOVELY Vintage BLUE ONION Art Pottery 6" FTD VASE
PRICE
$8.88

or best offer

Creamer in Blue Onion pattern by Zwiebelmuster

Set of 2 Luncheon Plates in Blue Onion pattern by Zwiebelmuster

2 Country Fare pottery French Onion soup bowls USA Ohio Zainesville Blue Brown

Vintage Blue Onion Rice Canister/Jar Ceramic/Pottery ~Unusual~

Blue Onion Dinnerware Scio Pottery Plate USA 10 inch Vintage Collectible

CZECHOSLOVAKIA ZWIEBELMUSTER BLUE ONION SOUP VEGETABLE LARGE TUREEN W/ LID COVER

Lot of 4 Vintage BLUE DANUBE Blue Onion 10 Oz French Glass Goblets #2- Marked

Original Bohemia Zweibelmuster Blue Onion Pitcher, Made in Czech R.
HIGH BID
$3.99

BIN: $5.99

Pair Two Heavy Ceramic Consomme French Onion Soup Bowls with Handles Blue White
HIGH BID
$9.99

BIN: $14.99

Zwiebelmuster Czech Blue & White Blue Onion Dish w/Lattice Sides

Van Briggle Pottery Ming Blue Onion Bulb Vase

Vintage Blue Staffordshire Oval Platter, circa 1910,'Onion' 10.5", Unusual!
HIGH BID
$21.99

BIN: $39.99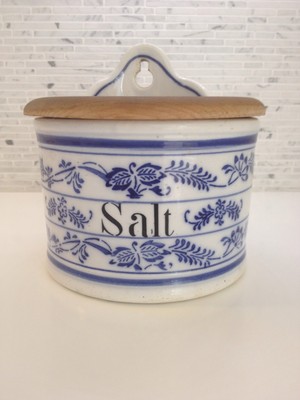 BLUE ONION Salt Box Blue and White Canister Wood Lid -

Vintage Blue Onion Germany Vinegar Container

Original Bohemia Blue Onion Bell

Antique Blue Germany Blue Onion Large Coffee Kitchen Canister 9 1/4" high BIG
PRICE
$76.50

or best offer

Unique Blue Onion Style Art Pottery 12" Twisted Vase ~ Stunning ~

BLUE ONION SUGAR CANNISTER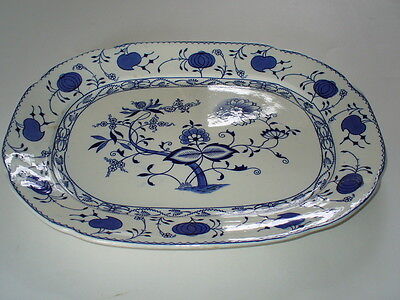 Allerton's England BLUE ONION 15 1/4" Oval Serving Platter

Vintage Cobalt Blue Onion Ceramic Salt & Pepper Shakers-Japan
HIGH BID
$12.99

BIN: $19.99

Blue Onion FINE PORCELAIN Salt & Pepper Shakers , Made in Poland, Korona

Kensington Blue Onion Bread & Butter Dish Plate Staffordshire Ironstone England
PRICE
$1.47

or best offer

Blue Onion Fine Porcelain Creamer & Sugar Bowl W/ Lid , Made in Poland, Korona